Oct/22/17 07:27 PM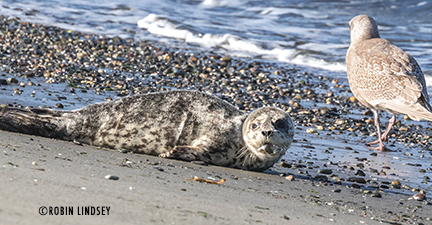 This year's seal pup season has been by far the strangest in Seal Sitters' 11 year history. Usually in September and October, first responders and hotline operators are swamped with calls about seal pups who are trying to find a quiet spot to rest on West Seattle's busy beaches. Not so this year. Without a single call about a live pup in over 5 weeks, responders were wondering what the heck was going on.
That dry spell finally ended this morning when SSMMSN Hotline Operator Cheri fielded a report of a seal pup on Alki Beach. When First Responder Robin arrived about 10 minutes later, she was delighted to see two SW Precinct Police officers standing next to barricades they had placed at a respectable distance on either side of a tiny seal pup. Thanking the officers, they replied that it was the best duty they could ask for - protecting a sweet little seal on a sunny day at the beach. The officers had been nearby and were alerted by a resident.
As Robin stretched tape and pounded in stakes, First Responders Lynn and Dana came down to lend a hand on this very windy morning. Volunteer Scheduler Molly checked the online calendar and began making calls to those who had entered time for the day. A young boy, enjoying Alki with his family, was fascinated by the furry little critter and named the seal
Frankie
.
SS volunteer Helen showed up with her large scope and tripod strapped on her back. She set it up at the east end of the perimeter so people could get a closeup look. Brand new Seal Sitter Margy, positioned at the far opposite end of the wide buffer zone, talked to a steady stream of rapt people, all wondering what the fuss and tape was about. Lots of stickers were given out to appreciative children. Volunteer Jimi was on standby for her afternoon shift.
Frankie was alert to activity (a good sign), but had some coughing bouts and most certainly has some respiratory issues. Because they are almost always on the thin side with a compromised immune system, most weaned seal pups in the late fall and winter are coping with some kind of viral problem caused by lungworms.
It's all too often a struggle for seal pups to survive stacked odds - a 50% mortality rate the first year. That's why it is so important that we allow them the space to come ashore, warm up out of the cold water and re-charge, so they have the strength to battle through these challenges.
About 2 1/2 hours after the first report, Frankie decided he'd had enough of a group of pesky seagulls who were disturbing his nap time. He moved easily to the water's edge and disappeared into the choppy waves of Puget Sound. We'll be on the lookout for Frankie, should the pup return for more rest tomorrow.