Jan/14/13 03:20 PM
The story was prompted by our late October report of a West Seattle seal pupping season with emaciated pups and a
higher than usual mortality rate
for our area (we are happy to say that we ended the year with a wave of chubbier pups). The segment will be airing on PBS, but the audio has already aired on NPR's KUOW and other radio stations. The embedded video shown here is also posted on
KCTS 9's website
along with the script and photos. Many thanks to Katie and Michael for helping to spread the word that, like all wild animals, seal pups are in a daily struggle to survive and need to be able to rest on shore undisturbed.
Nov/08/12 11:55 AM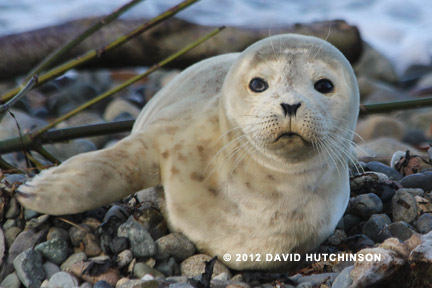 Yesterday morning, the hotline rang with a report of a seal pup very close to the walkway at Lincoln Park. Our responder immediately headed out and found a very active pup being guarded by the woman who made the call. We can't thank Leslie enough and other callers who are willing to stay and protect a seal until we can arrive. Lincoln Park is especially time-consuming for a response because it is at the south end of our boundary and responders have to hike in quite a distance.
The weaned pup was animated, facing the sidewalk, and a crowd quickly gathered as our responder tried to establish a protective perimeter. Even so, people were allowed much closer than the recommended 100 yards due to the physical constraints of the location. In these situations we do the best we can to allow the pup some peace and quiet, but sometimes that is difficult to accomplish. Alexa, a young child who stopped and stood behind the yellow tape with her mom, was given the opportunity to name the pup. She promptly suggested Lucy.
Lucy seemed just as curious about the excited people as they did about her. She stretched her flippers (regulating her body temperature as she tried to warm up), prompting smiles and laughter, but finally settled in for an extended nap. Little Lucy is terribly thin and has some cuts on her rear flippers, but returned to the Sound after dark. We hope she spent the night stuffing her fluffy white belly with lots of herring, squid and midshipmen (the small fish, not the Navy sailors). If you see Lucy on shore (or any other seal), please call our hotline at 206-905-7325 (SEAL) and keep people and dogs away.