Oct/09/14 10:09 AM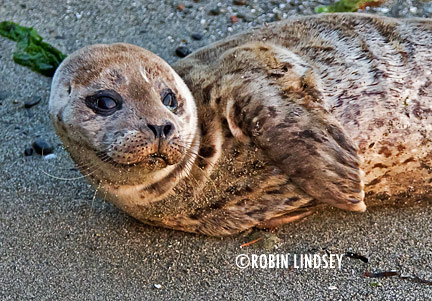 The past days have seen a whirlwind of seal pup activity in West Seattle. On Tuesday, Seal Sitters responded to a total of 5 resting pups, all in far-flung locations - from the southernmost neighborhood of our boundary to the most northern point.
Four of those pups were terribly thin and desperately needed sanctuary on shore and volunteers worked in shifts from early morning til dark protecting them. Seal pup Autumn at Lincoln Park and seal pup Mahina,(Hawaiian for "moon") near Cormorant Cove returned to the water overnight.
Seal pup Surfer (photo above) tried to rest in a spot just below rowdy ferry commuters who talked loudly and took photos. Our responder kept watch over Surfer, intercepting 4 beach walkers with off-leash dogs. Each person was strolling along the sand with mobile device earbuds firmly implanted, oblivious to their surroundings and their dogs running far ahead of them. Barely able to get their attention before it was too late, seververal dogs came within 15 feet of the pup. The last, a large white dog, came even closer before the owner restrained the excited animal - and Surfer was scared back into the water, wasting precious calories.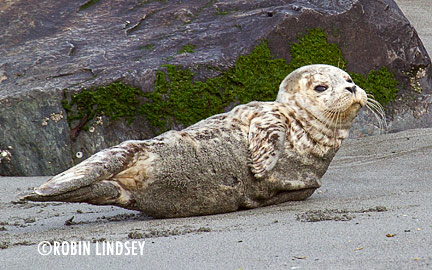 Seal pup Pumpkin (right) has continued to haul out each night at the same small beach, but yesterday surprised us with a daytime visit. We were finally able to get a decent health assessment and i.d. photos of the elusive pup. She has either changed her foraging patterns, but based on her thin condition, likely needs more time ashore to build up enough strength to forage.
Seal pup Seacil still hangs out on the rocky shoreline along Elliott Bay each day and night, in between foraging trips for tiny bait fish.
Over the past week, Seal Sitters volunteers have educated many, many hundreds of people about harbor seal behavior and our fragile marine environment thanks to these tiny ambassadors who grace us with their presence.