Feb/27/16 12:12 PM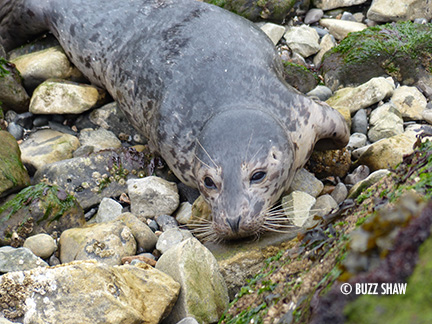 Yesterday afternoon at West Seattle's Duwamish Head, Seal Sitters' first responders rescued a moribund seal pup from the surf. Sadly, the young male died shortly after transport to
PAWS Wildlife Center
in Lynnwood.
After observing the pup's non-responsive behavior, first responders Robin and Lynn scaled the slippery boulders below the sea wall to prevent him from drowning in front of onlookers. The pup was gently carried away from the water's edge. A call was placed to the rehab facility to make sure that the pup could be received for evaluation and humane euthanasia if necessary. Volunteers Buzz and Gretchen made the long drive in rush hour to deliver the pup to PAWS.
A review of id photos of pups from the 2015 season and responses early this year revealed that this pup was not known to Seal Sitters.
WDFW Marine Mammal Investigations Unit
, a fellow member of
NOAA's West Coast Marine Mammal Stranding Network
, will perform a necropsy to determine cause of death. The pup would have been born in Puget Sound last year. Harbor seal pups are weaned and on their own after nursing 4-6 weeks.
Thanks to a recent fundraising campaign, Seal Sitters volunteers and supporters have raised money to pay for blood and tissue tests to help offset Federal cutbacks in funding for research. These tests provide valuable data and insight into the mortality of harbor seal populations and help identify disease trends in marine mammals.
If you would like to make a donation to help fund this research, please click here.


If you see a seal or sea lion onshore,
please allow space and stay back
- and call Seal Sitters' dedicated hotline @ 206-905-SEAL (7325).
Feb/24/16 07:27 AM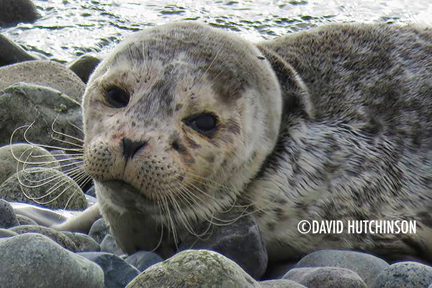 After a spell of inactivity for marine mammal response in West Seattle, a seal pup was reported this morning just south of the Fauntleroy Ferry dock. The reporting party said the pup was up near the driftwood high on the beach, but was startled by someone walking by and had moved closer to the water. First responder Lynn found the pup right at the small public access entryway to the largely private beach. Around 9:30am, the alert pup flop-hopped into the water.
A concerned neighbor asked if he could make signs to warn people, especially those with dogs, that a seal had been using the beach to rest. He was encouraged to spread the word in the neighborhood.
A second call into the hotline around noon was of the same pup at the south end of Lincoln Park's Colman Pool, a highly trafficked pedestrian area. The pup was snoozing soundly at the water's edge, but as the tide rose over the next few hours, he/she kept scooting higher on the beach.
On this nice day, quite a few people stopped to ask questions of volunteers Buzz, David, Jonel and Dana who came down to help out. The afternoon sunshine coated everything with a golden haze, so the pup was named Dusty. Dusty was eventually engulfed by waves and swam off shortly after 3pm.
Thanks to everyone who gave Dusty some "chill" time on shore.