Jan/26/17 11:12 PM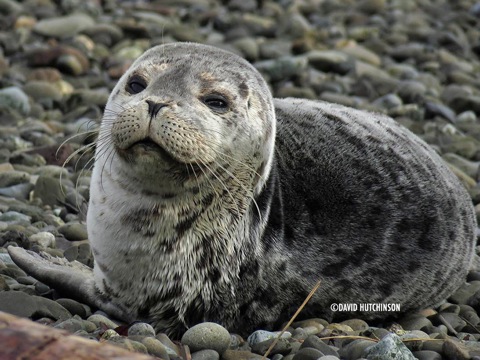 Around 8:20 this morning, Seattle Parks employee Bill was doing some routine work around the West Seattle Water Taxi landing. He noticed a harbor seal pup onshore, close to the water's edge, and called Gretchen at Seal Sitters' hotline.
First Responder Robin arrived within minutes and found a sleeping pup on the beach near the sidewalk and about 6 or so feet from the base of the cement steps leading down to the small cove. The pup was at the high tide line, so most likely had
hauled out
a couple of hours earlier.
After taping off access to the beach, she called Volunteer Scheduler Joslyn who, in turn, began calling vols. John and Helen arrived to lend a hand, followed by Ken, Victoria and Colette. Nanda and super kid volunteers Mathilde and Benny donned blue "NOAA volunteer" vests as well and talked to a steady stream of commuters, walkers, runners and bikers. Later in the afternoon, Lisa and young son Sawyer earnestly chipped in. Sawyer did a serious Seal Sitters marketing campaign to passersby. It was impressive to see Seal Sitters' youth interact so confidently with the public. First Responders David and Lynn provided additional educational support.
Most of the bitter cold morning, the pup was pretty alert to loud noises from close-up people to passing trucks and busses. After awhile, he seemed reassured to be safe and settled in for some shut-eye. Nicknamed
Kimchee
by employes of nearby Marination Restaurant, the pup snoozed soundly throughout the afternoon. Marination's manager Roz generously extended the offer of free hot drinks to frozen volunteers.
After dark, with the Seattle skyline twinkling across the water, Kimchee returned to Elliott Bay. Kimchee has an infected belly wound which was not visible due to positioning until late in the day. Should the pup return to shore tomorrow, a marine mammal veterinarian is available for a consultation, but salt water does have strong healing powers.
Thanks to everyone who helped protect Kimchee on a very cold day. It was great hanging out with people passionate about preserving wildlife and the environment.