Jun/30/14 09:34 PM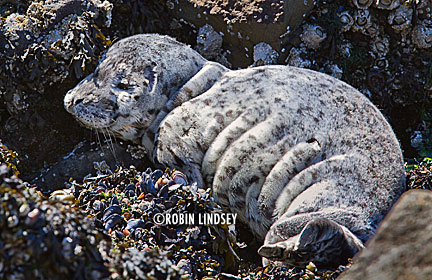 Yet another newborn pup rested along West Seattle's shore today - the third in less than 3 weeks and by far the earliest start to pupping season for Seal Sitters MMSN, now in our 8th year.
The hotline received a call mid-afternoon and first responders were quickly on the scene to discover a small, spotted pup nestled in the barnacle-encrusted rocks below the seawall. Volunteers established an extensive perimeter to reduce disturbance around the pup in hopes that the mom would return. The pup snoozed in the warm sun on a sparkling afternoon. Super-cool Seal Sitters volunteers Stella, age 8, and her sister Ruby, age 6, talked to curious kids and adults and informed them that the pup needed rest and quiet. The girls named the fluffy white pup June.
Around 5:30pm, the incoming tide whipped the cold waters of Puget Sound over the pup and she swam along the shoreline looking for another place to haul out. Volunteers followed her movements through binoculars and moved the perimeter when she finally came back to shore. June didn't stay long, though. Some onlookers spotted another seal in the water and we are hoping that June was reunited with mom who finds a quiet and safe place to nurse.
First responders will be out looking for June at first light in the morning. If you see a pup on shore, please stay back and call our hotline @ 206-905-7325 (SEAL). If mom is frightened by people and dogs too close to her pup, she will likely abandon June.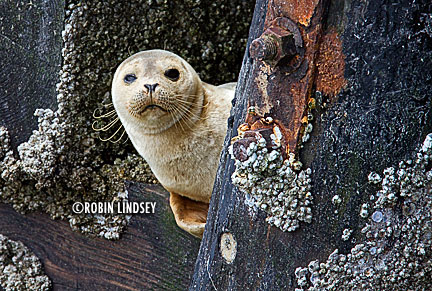 Seal Sitters has also been monitoring a
yearling
(seal born last year) that has picked a precarious place to haul out, a highly trafficked pier. Nicknamed Pierre (at left), he climbs onto the pier structure at high tide and returns to Puget Sound when the tide returns. Thankfully, the pup has gone largely unnoticed by passersby so he is not unduly stressed.
If you see a pup resting high above the water on a dock or pier, it's important that you don't scare him, causing potential injury in a fall. Additionally, It is much safer for him to rest on the timbers than on the beach with off-leash dogs.