Dec/21/16 08:20 PM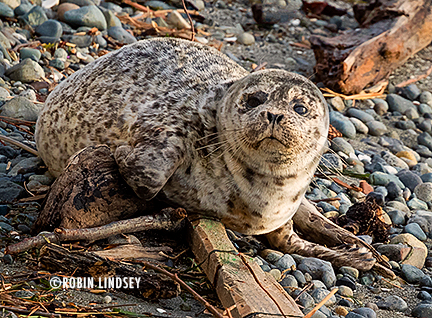 Around the globe today, people of differing cultures celebrated Winter Solstice, an astronomical phenomenon creating the least hours of daylight and longest night of the year. Astronomers mark the day as the beginning of the winter season.
Late this morning, Seal Sitters celebrated the arrival of a harbor seal pup who came to rest on a West Seattle beach and enjoy every bit of lingering sunlight. The hotline received a call about a pup close to the sea wall on a public beach, just above the high tide line.
Yellow tape was strung, signs were posted by first responders and volunteers began to arrive. Appropriately enough, the alert pup was nicknamed
Solstice
.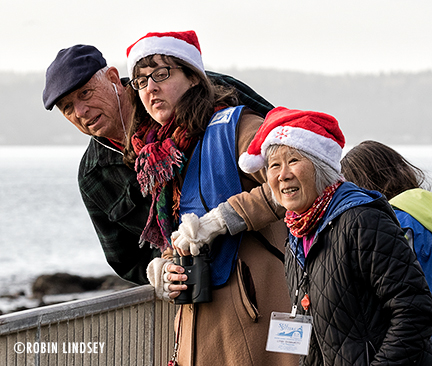 The pup settled in for a long snooze as excited passersby asked questions. In the spirit of the holiday season, volunteers donned Santa hats and merrily provided information about seal pups' critical need for stress-free rest and the work of the Marine Mammal Stranding Network.
Solstice appeared in reasonably good health, but potentially has blindness in one eye. Seals can forage quite successfully, however, with limited vision and even complete blindness. They use their whiskers, each of which contains up to 1,500 nerves, to locate prey by sensing vibrations up to 600 feet away. Seals have the amazing ability to determine the size and shape of prey with this technique.
Seal Sitters volunteers stayed until well after dark in brisk temperatures until Solstice finally flopped across the pebbled beach, back toward the cold waters of Puget Sound. After more than a month-long drought in seal pup responses, volunteers were thrilled to help keep Solstice safe while on shore.