Apr/19/15 11:28 PM
Late Thursday night, two Marine Mammal Stranding Network teams piled into pickups and hit the highway - one in California, headed north and the other in Washington, headed south - with the intent to rendezvous in southern Oregon at 6am Friday morning. Why? To transport and release a rehabilitated Steller sea lion pup, rescued many months before in the Pacific Northwest and rehabbed at The Marine Mammal Center in Sausalito.
Finally, at 2:30 Friday afternoon, the bleary-eyed Washington contingent (consisting of WDFW biologist Dyanna Lambourn, her intern and grad student Erin Dagnese and PAWS Wildlife Center naturalist Jen Mannas) drove onto the sand at a Moclips beach. In a large cage on the back of the truck, the animated pup soaked in the smell and sounds of the Pacific Ocean. Thanks to this tremendous joint effort, he was back home and soon to be free.
Last fall, the 4-month-old male pup stranded on the beach at Ocean Shores. On October 3, 2014, a group of people illegally dragged the helpless, weakened pup a long distance back to the water.
When Ocean Shores Police Department Officer Henderson arrived on the scene, he found the unresponsive pup rolling in the surf. Quickly, he rescued the pup from the waves so he wouldn't drown. WDFW Marine Mammal Investigations responded and the animal was taken to WDFW's facility where he was hydrated, stabilized and observed overnight. Weighing only 31kg (about 68 lbs), he was terribly emaciated for his age.
The following morning, the pup (nicknamed Henderson) was transported to
PAWS Wildlife Center
in Lynnwood for short-term rehabilitation. In mid-November, he was flown courtesy of the Coast Guard to
The Marine Mammal Center
(where he was nicknamed Leo because of a name conflict) to complete his lengthy rehab and recovery and enable critical socialization with other animals. It's not uncommon for a Steller sea lion pup to nurse on mom's milk for one - three years. Separated from his mom for unknown reasons, Leo Henderson needed to pack on weight and learn to survive on his own.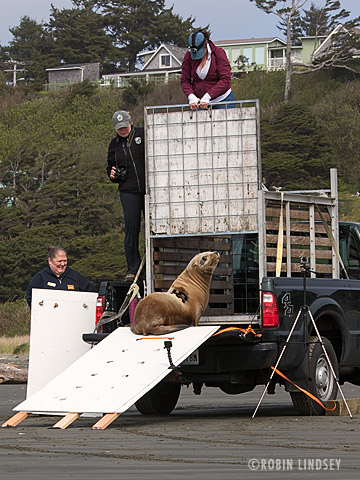 At last, the day of his release had arrived. Leo Henderson tipped the scales at a chunky 125 kg (over 275 lbs) and was now 10 months old. Key rehab staff from PAWS made the long drive out from Puget Sound to assist and savor this moment.
As everyone manned their positions, the cage gate was lifted open and the stout, golden pup emerged, sporting a satellite tag to track his travels and identification numbers "35" dyed onto his side. After surveying the situation, he leapt from the ramp. A couple of u-turns later, he eventually lumbered across the wide expanse of beach toward the ocean.
Resting briefly at the water's edge, he turned to look back at those who had given him a second chance at life. Leo Henderson then bounded into the surf. His head popped up periodically as he navigated a series of crashing waves - and then he was gone. The dedicated team stared out into the vast Pacific. It had truly been a long road for Leo Henderson.
Because of the satellite tag temporarily glued to his fur (it will be shed along with the dyed id numbers during the molt of his coat), you can follow his movements along the Pacific Coast
here
. The data will help researchers learn more about Steller sea lions. The pup is a member of the Eastern stock of Steller sea lions which were recently delisted as threatened from the Endangered Species Act. The population is rebounding, but still recovering. Check back for updates on his travels.
Thanks to everyone involved - NOAA (special kudos to Kristin Wilkinson), WDFW, United States Coast Guard, PAWS Wildlife Center and The Marine Mammal Center - for your extraordinary efforts to save this special pup.
Apr/19/15 04:07 PM
The Whale Trail presents:
"A Tale of Two Otters: Natural History of River Otters and Sea Otters"
Presentation by
Leo ShawWhen: Thursday, April 30th, 7PM (doors open 6:15)
Where: C&P Coffee Company, 5612 California Ave SW
Cost: $5 suggested donation. (Kids get in free!)
Advance tickets: brown paper tickets here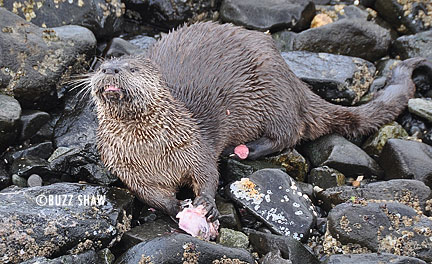 What is the difference between a sea otter and a river otter (photo right)? Where do they live, what do they eat, and what role do humans play in their environment? Join us to learn about these fascinating and playful creatures who share our shores.
Leo Shaw will discuss the natural history of river and sea otters in North America, with a special focus on the river otters of West Seattle! His talk will cover human interactions, population swings, social structure, anatomy and physiology food preferences, legal status, and current threats.
Buy tickets early
to reserve your seat. And hurry! This will sell out.
This is the next in a series Orca Talks hosted by
The Whale Trail
in West Seattle. The event also features updates from Seal Sitters, and Diver Laura James (tox-ick.org). You otter be there!
About the Speaker
Leo "Buzz" Shaw is a zoologist who served as a Marine Education Specialist with the Seattle Aquarium from 1977 to 2005. Now retired, he continues to work part-time on Beach Naturalist and Citizen Science programs for the Aquarium.
Leo was a board member of the American Cetacean Society Seattle Chapter in the 1980s. He currently volunteers as
Science and Education Advisor for Seal Sitters
and as a marine-mammal expert for The Whale Trail.
Apr/01/15 11:43 AM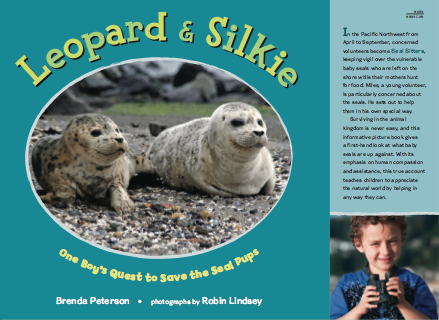 Leopard & Silkie: One Boy's Quest to Save the Seal Pups
has been nominated for the prestigious Beverly Cleary Children's Choice Award. The book features text by
Brenda Peterson
and photographs by
Robin Lindsey
, co-founders of Seal Sitters MMSN. The award is named in honor of Oregon-born children's book author, Beverly Cleary and is sponsored by the Oregon Association of School Libraries.
Children of all ages may vote online
for their favorite of the five nominated books from
March 15 - April 10, 2015
. Nominated books are targeted to the reading ability of 2nd and 3rd graders or transitional readers. All elementary school age students are eligible to vote in this contest. To be eligible to vote for their favorite book, students must have read (or listened to) at least two of the nominated books.
Learn more here
about the nominees and how to vote.
Leopard & Silkie
was named a 2013 Outstanding Science Trade Books K-12 by the National Science Teachers Association.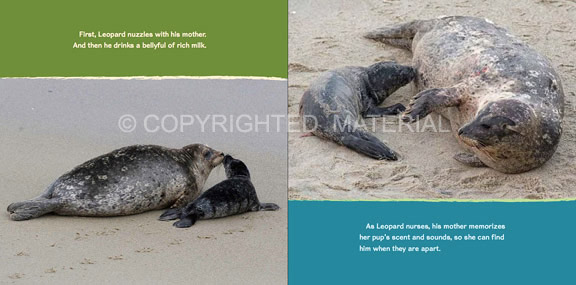 Leopard & Silkie
is based on the true story of two West Seattle harbor seal pups in 2007. That late summer and fall, the volunteers who came to be known as Seal Sitters looked after many vulnerable little seal pups. This book tells the tale of pups Leopard, with his golden coat and black spots, and snow-white Silkie who became fast friends and the young volunteers who helped protect them.
"Young animal lovers will return again and agin to this picture book...[a] compassionate story. Young readers will find plenty to pore over in Robin Lindsey's close-up photographs of the shore life and plenty to think about how they could make a difference as a volunteer." ~ Sacramento Bee


Learn more about the book, Seal Sitters kid volunteers, ways you can help wildlife and become an environmental steward on the
Leopard & Silkie
book website here
.
Kids, your
vote for
Leopard & Silkie
between March 15th and April 10th will help spread the word to protect harbor seal pups! You and your friends can help bring Seal Sitters and seal pups into the national spotlight and save pups across the country.