May/22/17 06:43 PM
The recent British Columbia incident where a California
sea lion yanked a young girl off a commercial dock
and into the Strait of Georgia has made international headlines. The girl and her family had been feeding the sea lion bread (most decidedly not a sea lion staple food); this, despite numerous signs clearing warning that
feeding marine mammals was not permitted
. The child, who had been perched on the edge of the pier, was quickly rescued from the water and was not injured.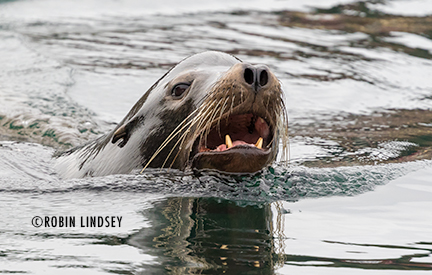 Sea lions are curious, gregarious, lively, loud and large (up to 1000 lbs). It goes without saying that they are
wild animals
and, as such, are unpredictable in their behavior. The blame for this unfortunate occurrence in Canada does not lie with the sea lion, who likely mistook the child's light-colored dress for fish.
The high-profile story has raised public awareness about the hazards this type of feeding interaction poses to humans, but the dangers to marine mammals must not be overlooked.
It is illegal to feed marine mammals in the wild. Marine mammals are protected by U.S. Federal law, Marine Mammal Protection Act, from harm by humans.
If you feed or attempt to feed a marine mammal in the wild you put yourself and the animal at risk of injury and may be investigated by
NOAA's Office for Law Enforcement (OLE)
for marine mammal harassment.
There are many potential consequences to feeding wild animals. Altering a seal or sea lion's behavior can prove harmful by
interfering with their ability to hunt and feed.
If conditioned to approach people and vessels for food, they are at
increased risk of injury and death
. Marine mammals are wild animals that normally feed on live fish that they hunt and catch on their own.
Feeding marine mammals can cause them to
lose their natural wariness of humans or boats
and condition them to beg for handouts instead of foraging for their normal prey. They
can become sick
if they eat food that is spoiled or food that is not part of their normal diet, or they
can get injured if they are too close to boats
. They may also begin taking bait and catch from fishing gear, risking
injury or death by entanglement in or ingestion of fishing gear
.
There have been cases of people being bitten by dolphins and sea lions that become aggressive while begging for food, being teased with food by people, or expecting a handout.
Help keep marine mammals safe - and wild.
If you observe someone feeding a seal or sea lion, please call OLE's national hotline at 1-800-853-1964 (information may be left anonymously).