Jan/10/13 09:04 PM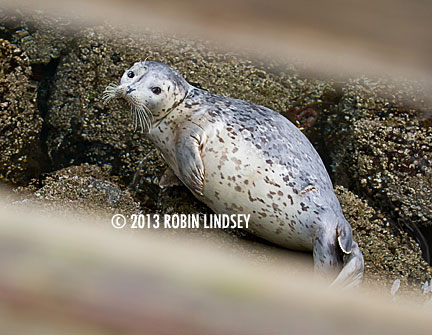 Today was a busy one for first responders and volunteers. Jack Block Park had seals on the abandoned dock and rocks near the pier as well as a pup snoozing on the protected beach. Our responder, checking the pier early this morning to see if any pups had climbed aboard the structure, noticed a very small pup hauling out on the rocks not 50 feet away just as huge, wet flakes of snow began swirling around her. She quickly closed off the entrance to the pier to give the very skittish little pup some quiet time.
Leaving the park, a man stopped her and said that someone was trying to feed bread to a seal near the water taxi landing. It is against federal law to feed a marine mammal. Thanks so much to that gentleman who apparently drove to Jack Block seeking out a volunteer. She located the pup, nicknamed Roxy (photo above), who appeared to have reasonably good body weight, but also about a 2" long, deep gash near the hip. The incoming tide had engulfed the rock he was resting on and, not too long afterwards, Roxy wiggled off the perch and swam away. Salt water has amazing healing properties, so we hope the wound won't get infected and impair Roxy's ability to forage.
Approximately 4:30 this afternoon, two of our first responders did a routine drive through the Don Armeni boat ramp while out on an errand. We regularly check the ramp for hauled out pups due to the extreme danger of that location. Sure enough, a pup was in the middle ramp. A tape perimeter was established and volunteers Theresa, Ana and Jenn gave up dinner to watch over the terribly thin, coughing pup. By 7 pm the pup, nicknamed Nicholas, was a great distance from the receding waterline due to tonight's extreme low tide. About 30 minutes later, Nicholas began crawling his way back down the bumpy cement ramp to the water's edge. Shortly before 8, after resting a short while, he disappeared into the waves in a silvery flash.
We will be on the lookout for both of these pups. Should you see a pup resting on shore, make sure to call our hotline at 206-905-7325 (SEAL).