Sep/19/15 05:26 PM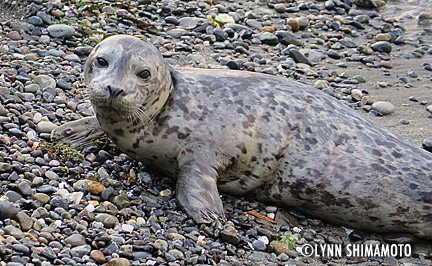 Every fall, salmon migrating through the waters of Puget Sound lure anglers of all ages and skills to the beaches of Lincoln Park. Silhouetted against both the dawn and evening light, fishermen can be seen lined up along the shoreline trying to land a fat Pink or Coho.
Somewhat surprisingly, this past week a sleek, silvery harbor seal pup has been occasionally wriggling onto the pebbled beach to rest among the fishermen. This little pup isn't interested in big salmon. Instead, he forages on the many species of tiny fish found among the intertidal eelgrass and seasonal kelp beds, a fertile marine habitat. For the most part, the fishermen have accommodated his presence and granted him space. The pup catches some zzzz's while the anglers cast their lines, hoping to catch some dinner.
Seal Sitters had received numerous reports of a seal pup coming and going from Lincoln Park. One evening, just before darkness fell, our First Responder finally got a chance to observe the pup, get some photos and talk with fishermen. Nicknamed Minnow, the pup was alert and seems relatively healthy.
While we may cringe at the thought of the pup navigating through lures and lines - entanglement and injury is always a concern - thus far the mantra to
Share the Shore
seems to be working out.
We thank the fishermen who have been moving to give Minnow a wide berth and have reeled in their gear when he approaches the beach. Please remember to remove all derelict gear and line from the area. Not only is it a danger to marine life and shorebirds, but also to people - and dogs
illegally
roaming the beach.