Jul/23/12 09:55 PM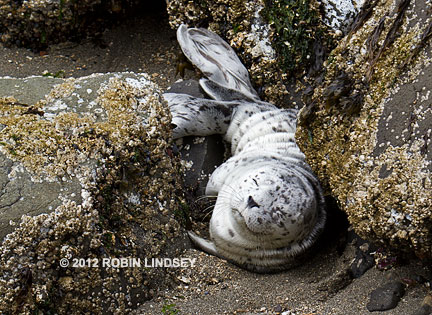 Seal Sitters responded to our first report of a seal pup this pupping season. The hotline received a report about 1pm that a pup was on the beach north of Alki. Our responders arrived within minutes and found a very tiny pup nestled in the rocks and snoozing peacefully. Apparently, however, someone had tried to put the pup back into the water before we arrived. As a reminder,
it is against Federal law (the Marine Mammal Protection Act) to touch, feed, move or otherwise disturb a marine mammal.


10 year old Bob and his 12 year old sister Mary, visiting from the Los Angeles area, saw the pup and relatives called the NOAA hotline. When asked if he'd like to name him (or her), Bob was thrilled and without hesitation said "Georgie". Georgie is very much a newborn with the umbilicus still attached and just two very tiny teeth.
Please be alert as you walk along the beaches. A couple of folks mentioned to our volunteers on duty that they had recently seen pups using the shoreline and beach steps to rest. If you see a pup, please stay far back and call our hotline at 206-905-7325 (SEAL). It is imperative that people and dogs do not impede a pup's chance to survive - with a 50% mortality rate the first year, pups need to be given space.
If people are too close to a nursing pup, the mom may abandon him and he cannot survive on his own.
Volunteers watched over Georgie til he swam off around 8pm. We are hoping that mom is out there and will be nursing Georgie tonight. Thanks to a very cooperative public and our dedicated volunteers who put in long hours today protecting him.