Nov/01/11 07:49 PM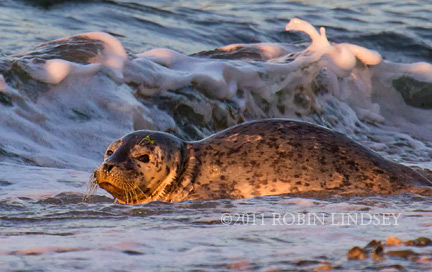 Volunteers are still observing and protecting pups in West Seattle, but sometimes in less trafficked locations. Weaned pups, now older and a bit more wary of strangers, often choose safer spots to haul out and, of late, we have responded to a number of reports of pups on private beaches. The morning following Abe's brush with an off leash dog, he was found resting on a private beach north of Lincoln Park. Later that afternoon, he showed up back at the Park for a snooze, returning to the Sound as the sun set (photo right). Abe was observed over the next few days on private beaches, but was last seen Wednesday at Lincoln Park where he spent over 12 hours on the beach and was looking a bit too thin.
New pup Joy spent Friday in the rain on a private beach south of Alki, while another pup slept safely on a platform offshore. Homeowners kept a watchful eye on the pup until she returned to the Sound late in the afternoon. We have responded to reports of two additional pups hauling out on private beaches stretching as far south as Brace Point, where many homeowners have voiced concerns about off leash dogs.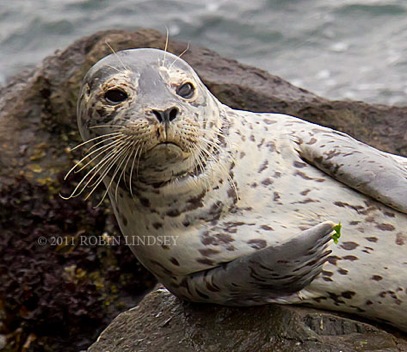 Spanky (left) continues to amuse everyone almost daily with his balancing act on the rocks below the seawall. A craggy rock with its easy getaway into the surf is a more attractive resting spot for an older pup than a beach crowded with people. Onlookers remain respectful of the need to stay back from the wall so that he can relax and not feel threatened. Spanky appears to be having great success foraging, producing a good blubber layer to keep him warm in the frigid waters of Puget Sound. Spanky's long whiskers, called
vibrasse
, help him find food in the dark water and at night by sensing the vibration and movement of prey. One recent
scientific study
reveals that seals may not only be able to detect fish up to 600 feet away using solely their whiskers, but also the size and shape of prey. Researcher Wolf Hanke says, "This strongly suggests that the seal can sense different species of fish. If the seal can avoid tracking fish that are too small or too big, this saves energy" (
NY Times
). Each highly sensitive whisker (seals have 40-50 on each side of their snout) has up to 1500 nerves at the base. The research shows that a harbor seal's whiskers are as efficient at detecting fish as echolocating dolphins.