Sep/18/15 08:30 AM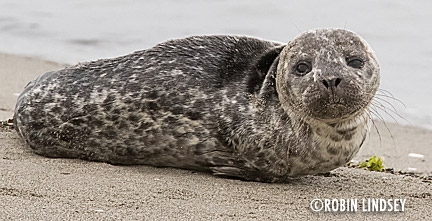 After an early morning search of Lincoln Park yesterday morning showed no sign of seal pup Cariad (who had still been resting on the beach the evening before), Seal Sitters' First Responders gathered up the perimeter materials that warned of his presence through the night. As rain began to fall, the hotline called to say there was a pup on Alki Beach.
Hustling to the new location, Robin and Lynn discovered a dark-coated pup sleeping in a steady rain, just feet from the cement promenade near the Bathhouse. With the help of reporting party John, they quickly stretched yellow tape between cones and sandwich boards with informational signs.

Thankfully, because of the rain, the beach was relatively deserted. Volunteers talked with a number of people who stopped by. They explained that almost all pups in Central and South Puget Sound are now weaned, with no mom to feed them - and that rest is critical to their survival.
As the rain subsided, the pup nicknamed Olivia (above) began to stir and was curious about the people who spoke respectfully in low voices.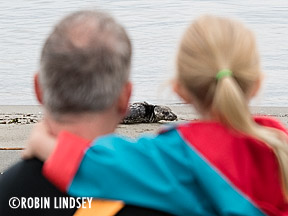 Because the sidewalk could not be entirely closed in order to retain handicap access, many onlookers were enthralled by the opportunity to observe this small marine mammal - quietly, from a very close distance. Seals have excellent hearing and while it may not appear that close proximity by people is disruptive or harmful, scientists have proven that it indeed causes stress - and stress causes health issues. This is the reason NOAA recommends that a distance of 100 yards be maintained from marine mammals. This poses a tremendous challenge for marine mammal stranding networks in urban areas.
The skies brightened after an hour or so and Olivia flopped across the sand and swam off into Puget Sound. Soon afterwards, a dark pup resting on a nearby offshore platform was identified (through telephoto images) as Olivia.