Jan/17/13 10:21 AM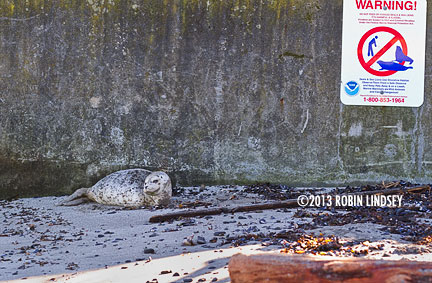 Seal Sitters volunteers had another busy day yesterday. The hotline received a call early morning about a seal pup at the ever-dangerous Don Armeni boat launch. Responders found a chubby pup resting under the NOAA sign warning people against harassing seals and sea lions - one very smart pup!
The few boaters who went out yesterday, including the Coast Guard, were very respectful and used the opposite ramp to launch and retrieve their crafts. This sweet little pup, nicknamed Sugar, snoozed until after 7pm last night under the watchful eye of volunteers.
Shortly after Sugar returned to Elliott Bay, the hotline received another call about a pup on Alki Beach across from Cactus. Our responders checked the beach stairs and surrounding beach, but could not locate a pup in the darkness. However, this morning a pup was reported on the steps and our responders quickly arrived and established a perimeter. Shortly afterwards, the pup returned to the Sound as waves swept up over him. Most likely, this is the pup we couldn't find last night. There are a number of pups resting on the offshore platforms as well today and over the past weeks.
Thanks to the volunteers who shivered in the cold yesterday and this morning!