Dec/14/12 05:37 AM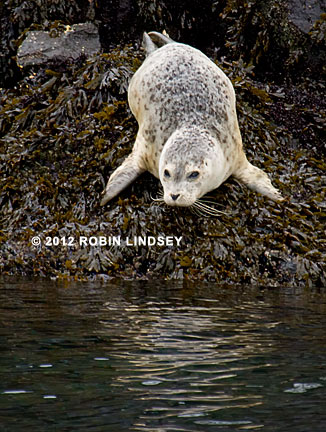 Quite a few seal pups are still hanging around West Seattle's shore as we head even closer to the holiday season and the thermometer takes a dip. A relatively chubby pup, nicknamed Noel, has found a favorite rock to rest upon for the past several days until high tide forces him to return to Elliott Bay.
Noel was first observed in the rain on Tuesday after the hotline received a call. Noel seems to be having success foraging, but did have some coughing spells that first day. Volunteers have not noticed any coughing since then, so it is our fervent hope that he does not have any respiratory issues.
As our responder stood on the pier observing Noel that first day, she noticed another pup sleeping and drifting carefree in the water just a few feet away. A darker pup, she wondered if it could be Sealy Dan, the hitchhiking pinniped, but spot comparisons in photos show it is not. So, we have lots of little seal visitors in our waters to look after.
Nov/07/12 05:39 AM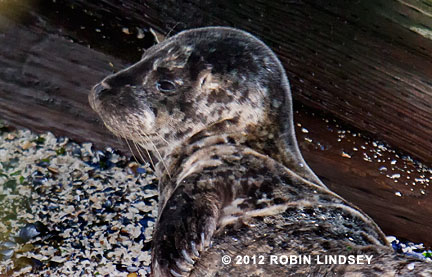 Volunteers have been scrambling night and day to help harbor seals rest on West Seattle's urban shores. Sealy Dan, the hitchhiking seal pup, (right) spent Sunday and Monday at Jack Block Park, returning to Elliott Bay each evening like clockwork at about 5pm. The pup looked thin on Sunday, but was very alert.
Volunteers talked to about 40 people over the course of the day Sunday, including quite a few children who were thrilled to quietly observe the pup. Unfortunately, as per usual, there were off leash dogs in the park. 5 year old Seal Sitter Louisa (below) politely, but firmly, informed several people in the park that there was a seal pup trying to sleep and they needed to leash their dogs. Louisa gets Spud's "Seal of Approval" - it is very empowering for a child to be able to make a difference and protect a wild animal. Our kid Seal Sitters rock!
Sealy Dan appeared much plumper (but still thinner than we'd like) on Monday - so, it looks like he found some bounty in the waters of Elliott Bay. We didn't see him Tuesday.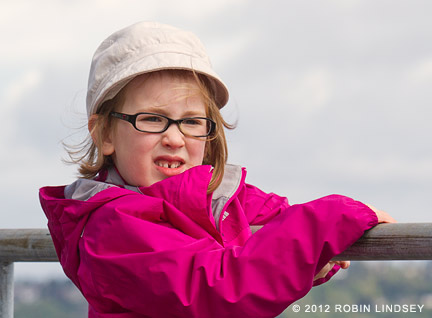 Not only are pups seeking refuge on the beach, but we've also had an adult seal who has come ashore three evenings now at a different location. This is a real treat for volunteers and the public. Adult harbor seals are extremely wary of people and our first concern was that perhaps the seal had some health issues. However, he/she returns to the Sound during the night and appears to be healthy - he must feel safe and secure in seal-friendly West Seattle.
Ma Kai has continued to haul out at her cove after dark for well over two weeks now, but did not come ashore last night to our knowledge.
Nov/02/12 09:33 PM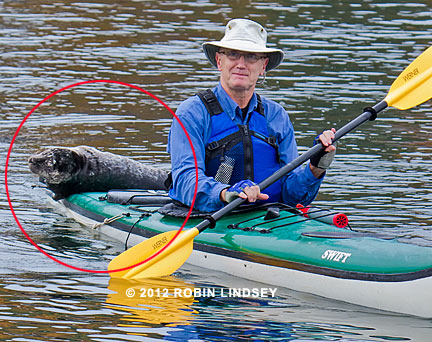 Two paddlers out for a journey in Elliott Bay this afternoon got a pleasant surprise when a seal pup's head broke the surface of the water and he swam alongside them around Harbor Island. Jeff Kelley remarked to his son Tyler, visiting from Brooklyn, that seals were curious and often liked to tag along.
They were stunned when the pup hopped onto Jeff's kayak. He straddled the back and promptly settled in for a snooze. Jeff said he had heard they "needed to rest", but fully expected the pup to stay only briefly. After about 30 minutes, the pup still showed no interest in returning to the water. Tyler managed to call Animal Control who referred them to Seal Sitters' hotline and operator Tess. When Tyler said, "There's a seal pup on the kayak - what do we do?", she immediately called our lead responder who was only minutes away and could see the two kayaks just offshore at Jack Block Park.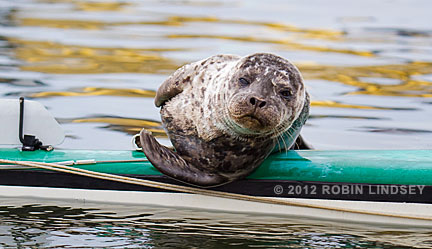 Hopping into her SUV with a PBS crew in tow (KCTS 9 is doing a segment on Seal Sitters), they dashed over to help out. The pup definitely was not interested in leaving the comfort of the kayak. Our responder suggested that Jeff give the pup a gentle little nudge that it was time to disembark. Not easily persuaded, the hitchhiker didn't budge. Then, we tried gently rocking the kayak back and forth, the pup slid off into the water and swam away. Jeff said it was truly a "blessing" that the pup had shared the ride.
This is not a violation of the Marine Mammal Protection Act because the pup came onto their craft. The boaters did exactly the right thing - they savored this amazing moment and respectfully allowed the pup some rest. Then, when it was time to move on, they quietly coaxed the animal into returning to the water. It is never advisable to paddle a far distance from where a pup hops on. A weaned animal might waste many precious calories returning to the previous location - or, if the pup is still nursing, the mom will not be able to locate her pup, who cannot survive without her. If in doubt, or if you think the animal is injured, call the stranding network hotline.
PBS reporter Katie Campbell and videographer Michael Werner were thrilled to video this unusual event for the segment they are working on. We do occasionally spot a seal pup lounging on a log out in the water - just this season off Lincoln Park. A tired pup is often not choosey about a
haulout
. Michael named the beautiful dark pup, Sealy Dan. Seal Sitters hopes Sealy Dan will visit our shore so we can assure him a good, long rest.