Aug/28/16 06:59 PM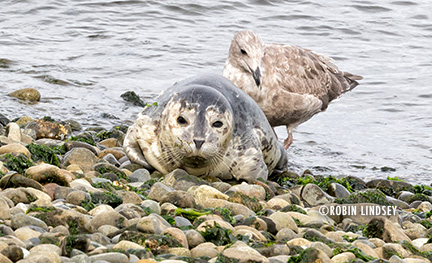 A seal pup was onshore briefly this morning. First Responders Robin and Dana followed up on a report of a pup at 64th and Alki. They located the tiny pup resting in the tideline below the cement steps. Divers who had assembled to traverse the beach at that precise location graciously gathered up their air tanks and entered the Sound further down the beach.
While establishing a perimeter to ensure the pup could rest undisturbed, a call was placed to the day's volunteer scheduler, who promptly began lining up volunteers for what could potentially be a long day ahead.
The white pup with gray spots was not alone at the water's edge, however. A seagull was intent on harassment, relentlessly pecking away at the pup's rear end. After only about an hour, the annoyed pup, nicknamed
Babs,
swam off in search of a quieter location to rest - one without a pesky seagull!