Oct/24/13 11:53 PM
It's been a crazy week so far for Seal Sitters. On Tuesday, volunteers responded to reports of 4 harbor seal pups in varying locations in West Seattle. First responders and volunteer scheduler Connie all scrambled to ensure that they were kept safe. The last call of the day came into the hotline around 6:15 of a pup at Don Armeni Boat Launch. Unfortunately, when responders arrived they found a seal pup having seizures at the tideline. The pup was carried up onto the beach and a quick exam in the darkness revealed that he was suffering from a traumatic head injury. Evidently, the pup had been sighted at the ramp around 4pm, but no call was made to Seal Sitters dedicated hotline for over two hours. By the time we received a report, arriving at the ramp only minutes later, PAWS Wildlife Center had already closed for the night, leaving no option for treatment until morning. The pup, nicknamed Solo, was moved to a secure, warmer location and taken to PAWS early yesterday morning. Sadly, the pup had to be humanely euthanized by the attending vet. A necropsy will be conducted on the small, male pup.
This is a reminder to please call us immediately upon encountering a seal pup or other marine mammal on the beach. If you have a smart phone, but can't remember our hotline number (206-905-7325: we suggest folks enter it into their cell phones), even a simple web search for "seal pups Seattle" will bring up our website.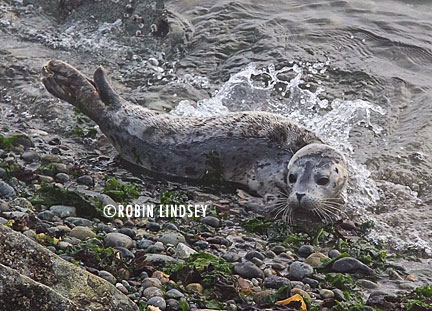 Yesterday, another 4 pups (seemingly different ones) were spread out in the four corners of West Seattle. Shown here, seal pup Harley is reluctant to return to fog-cloaked Puget Sound at high tide, even after resting for many hours. Harley has good body weight, but some wounds on his rear flippers.
Just as darkness fell with even more thickening fog, the hotline fielded a report of a pup that had just hauled out at Lincoln Park. Due to safety concerns for volunteers after dark in the remote Park, there was no response. However, later in the evening we responded to and taped off a pup in another location, one highly vulnerable to people and off leash dogs. During the night someone tore the tape, breached the perimeter and was coming up the beach stairs when our responder arrived. He said he "didn't know" there was a seal on the beach despite "do not enter" and "harbor seal pup resting here" signs clearly posted with tape and barricades. Thankfully, our responder saw that the pup was still sleeping on shore and repaired the tape.
Today, in stark contrast, there were no pups on shore that we know of, as responders did routine checks of the shoreline throughout the day and evening.