Oct/08/13 04:32 PM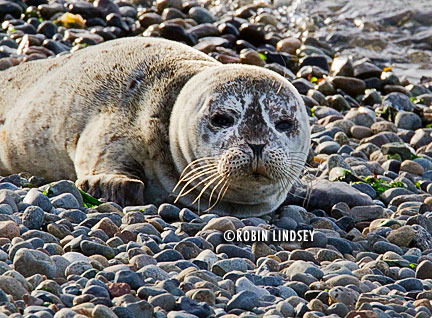 Seal pup Tsuki (pronounced soo-kee) has been mixing it up a bit at Jack Block Park. For several days this same pup has been resting safely on the inaccessible beach at this somewhat secluded park. However, yesterday our first responder found the thin pup napping on the open public beach, notorious for illegal off-leash dogs. Even as she was blocking off part of the pebbled beach so that Tsuki could rest undisturbed, a dog ran onto it. Thankfully, the dog owner was cooperative and retrieved the animal. Tsuki means "crescent moon" in Japanese, resembling markings on the small pup's face.
Volunteers kept watch over the pup throughout the afternoon into the evening as winds picked up and temperatures dropped. They talked to the public until around 6:30 pm when Tsuki finally stirred with the incoming tide and swam off in search of dinner. This little one really needs to fatten up and pack on some blubber for warmth and energy. We hope he (or she) was successful in foraging and have not seen Tsuki on shore yet today.
With too many pup deaths of late, it was good for enthusiastic volunteers (including youngsters Stella and Ruby - who also did her kindergarten homework while on duty) to be able to get back out on the beach and help a pup get some much-needed shut-eye.