Jan/08/13 07:49 PM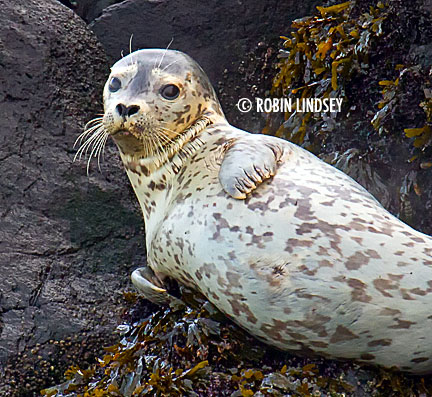 McDreamy, with his soulful eyes and silky locks, was spotted at Jack Block Park today. McDreamy the seal pup, that is.
He's one of a number of harbor seals of all age classes that have been resting on the rocks, beaches, abandoned dock (as many as 8 at a time) and the timber structure of the public pier. In cooperation with the Port of Seattle Police, Seal Sitters MMSN has been closing off the pier whenever a pup has been resting there (or on the rocks a short distance away). The pups climb onto the structure at high tide and rest for many hours. The extreme tides are expected to continue through January.
To ensure that the seals are safe from harm or harassment, volunteers monitor the activity at the Park. Both Seal Sitters and the public have enjoyed this unique opportunity to observe these stunning marine mammals foraging, hauling out and interacting. As is usual with weaned pups in wet and cold winter, a few seem to have some respiratory issues, but for the most part, the pups seem pretty healthy. With thinner blubber layers than we'd like to see, the pups need to come ashore not only to rest, but to warm up. McDreamy definitely draws admirers when he shows up on shore!
Seal Sitters is thrilled that Tully's Coffee has been purchased by seal pup McDreamy's namesake Patrick Dempsey. We have a special place in our hearts for the Alki Beach coffee shop, since we had our very first Seal Sitters meeting there in 2007. The staff continues to make us feel welcome even as we sometimes linger a bit too long. We thank Tully's, Pioneer Coffee and Starbucks for their generous donations of coffee for our training and beach cleanup events!