Aug/08/16 06:21 PM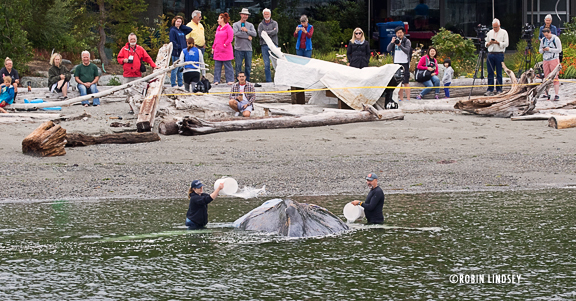 The last thing Seal Sitters MMSN (SSMMSN) hotline operator Kristen and First Responder Robin were anticipating early Sunday morning was a call about a "distressed baby whale" in Fauntleroy Cove. Headed to her car, Robin texted MMSN partner
Cascadia Research
to inquire if they had heard any reports of a whale by the ferry dock.
Fully expecting to see a harbor porpoise, often mistaken for a whale calf, the responder was stunned on arrival to see a partially submerged juvenile humpback about 30 feet from shore. Immediately, she texted Cascadia and WDFW Marine Mammal Investigations that we had a
live
whale stranding in West Seattle. The next text was to Seal Sitters First Responders to gather buckets and sheets. Our volunteer scheduler for the day, Arden, began making calls to line up volunteers for what would undoubtedly be a very long day.
A crowd had already begun to gather on the ferry dock above the beach. After updating concerned onlookers and West Seattle Blog editor Tracy Record that large whale stranding experts were on the way, she tossed orange cones, signs and stakes over the side and dropped down over the railing, to begin establishing a perimeter on the shore to keep people at bay. A large whale stranding in an urban area attracts huge crowds and she knew media would be on the scene imminently.
SSMMSN volunteers began arriving and donned Seal Sitters blue vests identifying themselves as members of
NOAA's Marine Mammal Stranding Network
. Several
Whale Trail
volunteers pitched in as well to help keep the public informed as events unfolded. There were lots of questions from distraught observers lining the ferry dock walkway and on the private beach below.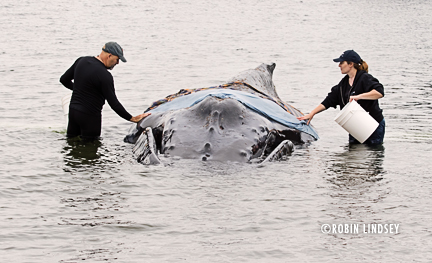 Thankfully, the morning was overcast and cool. However, as the tide receded there would be a need to keep the thin whale wet and as comfortable as possible. That would most likely involve a line of volunteers passing buckets of water once the animal was fully exposed.
The fervent hope was that the animal was healthy enough to return to the Sound with the incoming tide many hours later - but breathing was already becoming less pronounced.
The Cascadia team, led by stranding coordinator Jessie Huggins arrived, along with Jeff Hogan, orca researcher and executive director of
Killer Whale Tales
. The two waded out into waist-deep water with buckets (photo above). They cautiously approached the whale, fully aware that one flick of the approximate 11-foot long, white pectoral fins could send them to the hospital, or worse. First Responders have been killed trying to keep a whale hydrated.
Spreading sheets over the massive back, being careful that the blow hole was not covered so the whale could breathe, they then settled into a repetitive routine of pouring buckets of water to hydrate, pausing briefly afterwards to comfort the animal. They were joined in the water by
MaST
stranding team's Kaddee Lawrence.
WDFW-MMI's team, led by Dyanna Lambourn, was on site to assist with stranding response and necropsy, if necessary. Cascadia's research scientist, John Calambokidis, made the drive from Olympia. John and NOAA Fisheries' Lynne Barre fielded questions from the Seattle Times, West Seattle Blog, West Seattle Herald and every major local tv network.
Sadly, the efforts were in vain and the whale died at approximately 10:40am.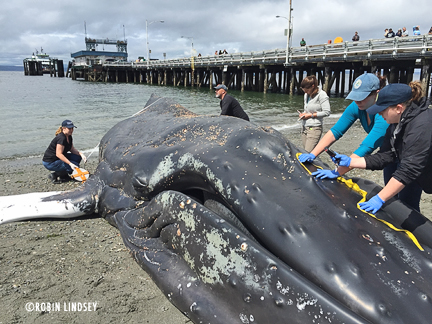 The death of the whale set into motion the next set of complications - how to remove a 39 foot animal weighing approximately 15,000 lbs. The goal was to find a suitable location to perform a necropsy. Such an exam would help determine if there were underlying health issues that contributed to the emaciation.
The first recorded humpback whale stranding in Puget Sound took place at the end of December, 2015. This juvenile would be the third stranding in less than a year (
click here
to find out the definition of a "stranding"). However, humpback sightings have increased in the Sound, so along with more sightings, comes the potential for more strandings. The biologists were intent on getting samples to see if there was any significant disease or contaminant trend.
Finally, after hours trying to deal with complications - and expense - of towing and finding an appropriate site, it was decided the best option was to do a limited necropsy on the beach. The Cascadia and WDFW-MMI team worked quickly with an incoming tide, taking measurements, tissue, blood, fecal and blubber samples. The whale's age was estimated as a juvenile, between 1.5-2.5 years old, based on length.
The whale was in poor body condition, with whale lice infestation and a parasite load in the intestinal tract. A weakened whale is an easy mark for harassment by transients orcas and there was evidence of orca rake wounds. For more details of the limited necropsy findings,
visit Cascadia's Facebook page.
Following the necropsy, the whale was towed by Washington State Ferry (WSF) workers and secured temporarily to the dock. On Tuesday morning, following a tow to an undisclosed location in the Sound, the carcass will be sunk and become a rich source of nourishment for varied marine life.
This terribly sad event was a well-choreographed team effort by many member groups of the Marine Mammal Stranding Network. We want to thank the homeowners, on whose beach the whale stranded, for their generosity throughout the day and evening. And special thanks to the WSF staff for their support on this challenging task. Thanks to the volunteers who put in long hours yesterday, answering questions and keeping people back, enabling the biologists to do their work undisturbed.
Many onlookers inquired how they can help. Local stranding networks can always use reliable volunteers (MMSN map of response areas
here
).
Seal Sitters Marine Mammal Stranding Network, responds to reports of
all
marine mammals along West Seattle shoreline. We will soon be holding our final volunteer training session for the season, tentatively scheduled on May 27th.
Please contact us
if you are interested in more information (details coming soon on websites).