Nov/02/12 07:01 AM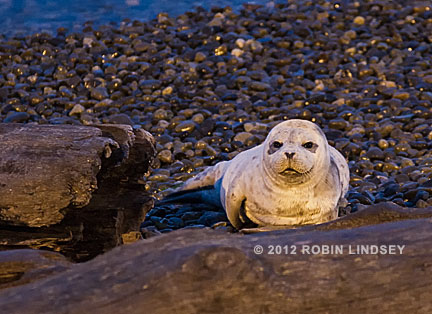 Like in seasons past, our seal pup season in West Seattle really heats up in the late fall as weaned pups seek refuge on shore. We seem to have a number of pups hanging out in Elliott Bay as coho salmon makes a run for the Duwamish River and where there are big fish, there are little fish (and fish scraps) for small harbor seal pups.
Ma Kai continues to
haul out
after dark and snooze as she has every night for the past two weeks now. She is a very chubby and alert pup and our volunteers are elated to protect her and keep her that way. Ma Kai is shown here, illuminated by a streetlight, as she stirs and gets ready to head back to the water from her safe cove.
The dark rings shown around Ma Kai's eyes are from a mucous membrane that protects the surface of the eye while swimming underwater. These rings are a good indication that she is well hydrated. Seals and sea lions don't drink water - they get all the hydration they need from the food they eat. A seal drinking water is an indication that the animal has a serious and often fatal, disease, Leptospirosis, which can be transmitted between mammals (including humans and dogs) by contact with urine.
Both Ma Kai and another pup, Wailea, have chosen another very dangerous location to rest two nights this week. Wailea, another alert and reasonably plump pup, was found in the middle of a dark parking lot accessible from Elliott Bay and could have easily been run over. Ma Kai was there last night. We have stationed volunteers until very late at night, protecting the pups in these two instances. Seal Sitters hopes they abandon this vulnerable location and return to the safety of Ma Kai's cove.
As always, if you see a pup on shore - especially in a dangerous location - call our dedicated hotline @ 206-905-7325 (SEAL). If it is at night and a volunteer does not answer the hotline, please leave a detailed message with time, location and your callback number.
Many thanks to the officers of the SW Police Precinct for their support in helping keep seal pups (and volunteers) safe in vulnerable locations.