Sep/17/15 04:44 PM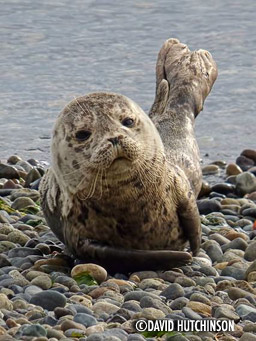 A thin, weaned harbor seal pup drew tons of attention - and created alot of educational outreach - yesterday at Lincoln Park. First Responder Lynn got the call around noon from Seal Sitters' hotline operator Dave about a pup on shore at the south end of the densely wooded park.
When she arrived, three people were watching the pup and asked if they could help. Lynn handed them 2 rolls of yellow tape and 6 stakes and she set off to grab Seal Sitters' stashed barricades near Colman Pool. When she returned shortly thereafter, the trio had set a pretty good perimeter to protect the pup. Thank you, Stephen, Kay and Sherri!
Quite a few people were out and about, enjoying the nice weather, and were happy to linger awhile and learn all about seal pup behavior and biology from volunteers. A visiting couple from Wales suggested a Welsh name: Cariad, meaning "sweetheart" or "lovely". It was a perfect name for this beautiful little pup who was alert throughout the day.
During the sunny and surprisingly hot day, there were as many as three harbor seals foraging just offshore. Quite the contrary to a fisherman's worry that the pups were "eating all the salmon", seal pups feed on very small fish and squid. Occasionally, Cariad would yawn widely, displaying a gleaming set of small white teeth. As the tide rose, Cariad kept moving on the beach, finally ending up close to the driftwood at the 7:20 pm high tide. At dark, Seal Sitters' volunteers left the pup snoozing and the perimeter in place.
First Responders Lynn and Robin checked the beach early this morning, but there was no sign of the pup and all materials were removed. Thanks to all of the volunteers who spent long hours ensuring Cariad could rest undisturbed.