Feb/14/15 11:43 AM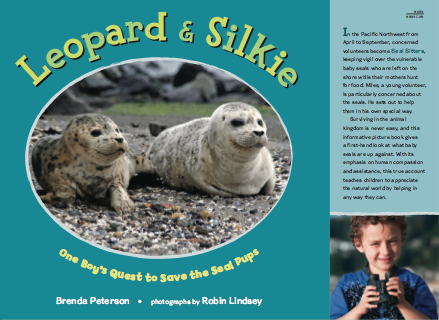 Leopard & Silkie: One Boy's Quest to Save the Seal Pups
has been nominated for the prestigious Beverly Cleary Children's Choice Award. The book features text by
Brenda Peterson
and photographs by
Robin Lindsey
, co-founders of Seal Sitters MMSN. The award is named in honor of Oregon-born children's book author, Beverly Cleary and is sponsored by the Oregon Association of School Libraries.
Children of all ages may vote online
for their favorite of the five nominated books from
March 15 - April 10, 2015
. Nominated books are targeted to the reading ability of 2nd and 3rd graders or transitional readers. All elementary school age students are eligible to vote in this contest. To be eligible to vote for their favorite book, students must have read (or listened to) at least two of the nominated books.
Learn more here
about the nominees and how to vote.
Leopard & Silkie
was named a 2013 Outstanding Science Trade Books K-12 by the National Science Teachers Association.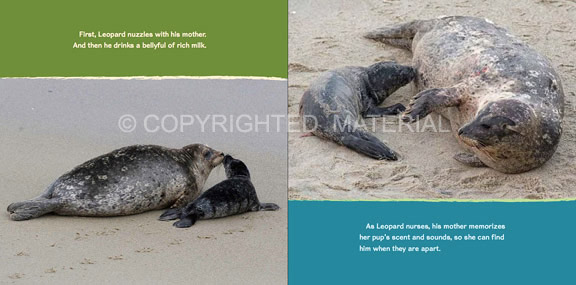 Leopard & Silkie
is based on the true story of two West Seattle harbor seal pups in 2007. That late summer and fall, the volunteers who came to be known as Seal Sitters looked after many chubby little seal pups. This book tells the tale of pups Leopard, with his golden coat and black spots, and snow-white Silkie who became fast friends and the young volunteers who helped protect them.
"Young animal lovers will return again and agin to this picture book...[a] compassionate story. Young readers will find plenty to pore over in Robin Lindsey's close-up photographs of the shore life and plenty to think about how they could make a difference as a volunteer." ~ Sacramento Bee


Learn more about the book, Seal Sitters kid volunteers and ways you can help wildlife on the
Leopard & Silkie
book website
here
.
Kids, your
vote for
Leopard & Silkie
between March 15th and April 10th will help spread the word to protect harbor seal pups! You and your friends can help bring Seal Sitters and seal pups into the national spotlight and save pups across the country.