Oct/09/14 10:09 AM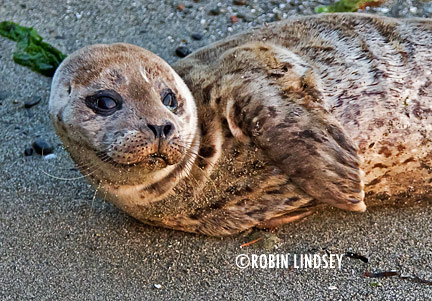 The past few days have seen a whirlwind of seal pup activity in West Seattle. On Saturday, Seal Sitters responded to a total of 5 resting pups, all in far-flung locations - from the southernmost neighborhood of our boundary to the most northern point.
Three of those pups were terribly thin and desperately needed sanctuary on shore, including Surfer shown at left trying to rest in a spot hectic with rowdy ferry commuters.
Two thin pups that were protected by volunteers on Saturday at Lincoln Park and near Cormorant Cove returned to the water overnight.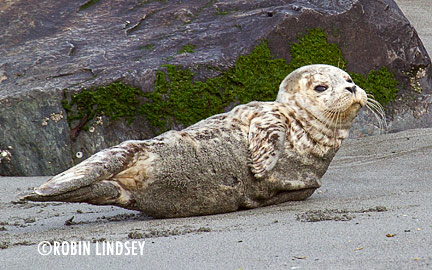 Seal pup Pumpkin (right) has continued to haul out each night at the same small beach, but yesterday surprised us with a daytime visit. We were finally able to get a decent health assessment and i.d. photos of the elusive pup. She has either changed her foraging patterns, but based on her thin condition, seems to need more time ashore.
Seal pup Seacil still hangs out on the rocky shoreline along Elliott Bay each day and night, in between foraging trips for tiny bait fish.
Seal Sitters volunteers have educated many, many hundreds of people about harbor seal behavior and our marine environment thanks to these tiny ambassadors who grace us with their presence.