Dec/29/16 06:41 PM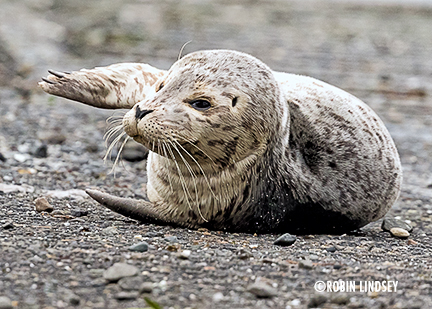 Seal Sitters' First Responder Lynn discovered today that her "5-hour" foot warmers last exactly 5 hours before toes start to tingle. That's just under the amount of time she spent out in the cold drizzle observing a seal pup, hauled out in the middle of Don Armeni boat launch.
The 3-6 month old pup was discovered asleep on the grooved cement ramp by First Responder David, on his way into downtown Seattle around 7am. The ramp, with its easy access and docks that attract small bait fish, has proven popular with pups over the years and volunteers drive through and check the location on a regular basis. Unfortunately, it is a dangerous destination since cars, trucks and boats - and people walking dogs - regularly pass by and a sleeping or sick pup could easily be injured.
David grabbed cones and barricades out of his car and taped a buffer zone around the area. Lynn arrived within minutes and Volunteer Scheduler Jonel checked the calendar to see which volunteers had entered in early hours. A steady stream of volunteers began arriving as soon as 7:30. Several boats were retrieved and launched near the pup's resting spot. Boaters were more than cooperative, as volunteers directed incoming boats to the dockside away from the pup and pedestrians around the various trucks, trailers and vessels. The pup was alert to the activity, but managed to get in a number of naps in between.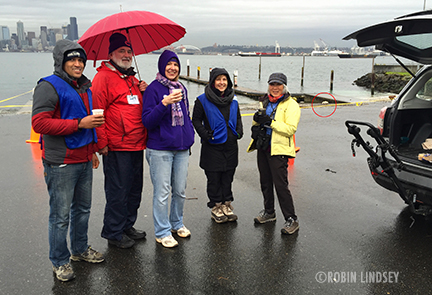 All available responders were called away at various times during a very hectic morning. Robin went to Vigor shipyard on Harbor Island to check on last night's report of a possibly injured or ill seal pup, but the pup was gone early this morning. While David kept an eye on the boat launch, Lynn checked on the very decomposed California sea lion carcass in the cove just north of Seacrest Park. Meanwhile, Buzz dashed off to follow up on a report of a seal on the beach at Jack Block Park, but none was found.
Young Seal Sitters volunteers Cyrilla and Rydian named the boat ramp pup
Flame
, very appropriate for this season of candles and light. Because of the holidays, some of our volunteers were free to help out and several visitors from out of town were able to see their very first harbor seal.
Flame snoozed off and on all afternoon, despite all the traffic and onlookers just 30 feet away. Volunteers had their own version of a tailgate party as they sipped coffee to stay warm - though the sight of Flame was enough to keep all of us warm and fuzzy, lifting our spirits on an otherwise dreary day.
The pup moved down to the water's edge around 3:20 and finally swam off into Elliott Bay at 4pm. After waiting to make sure Flame didn't return, volunteers packed up materials and headed home, satisfied that they had ensured the pup's safety today.