Jul/01/12 06:37 AM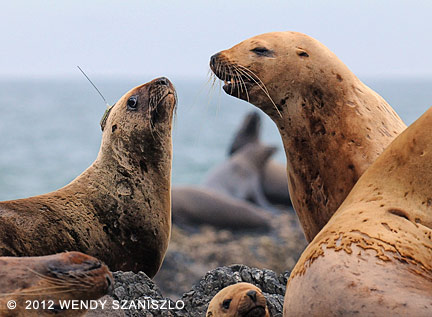 Mojo, the Steller sea lion pup rehabilitated and released on the Washington Coast last month, has been sighted and photographed in a Steller haulout off the west coast of Vancouver Island. He was known to have migrated to Canada just a few days after being released because of the signals picked up from his satellite tag. This is the first time he has been seen, however.
A marine mammal biologist (who also volunteers with the British Columbia Marine Mammal Stranding Response Network) was doing routine re-sights of branded animals when she noticed Mojo with his satellite tag on a very busy and popular Steller haulout site, Long Beach Rocks. This is one of a number of haulouts in and adjacent to the Pacific Rim National Park. Long Beach is considered a year round haulout for Stellers. Biologist Wendy Szaniszlo conducted a 3-yr study of the seasonal abundance and distribution of sea lions in the park preserve. Stellers are considered a Species of Special Concern under Canada's Species at Risk Act. Wendy reports that Mojo was observed in the "middle of the action", which means he seems to have adapted well to life back in the wild.
You can
follow Mojo's travels on SeaDoc Society's website
and receive almost daily updates on his location. Since this photo was taken, he is on the move once again and headed further north, well beyond Vancouver Island into Queen Charlotte Sound. As you can see from the photo, this is the time of year when sea lions molt their fur. Soon, Mojo's glued-on tag will fall off as he sheds his old coat and grows a brand new silky one and transmissions will cease. Many thanks to Wendy for sharing this photo!
Read more about Mojo's story here
.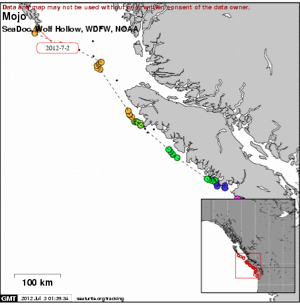 PUPDATE:
7/3/12
A satellite picked up a ping from Mojo's transmitter yesterday and he has made it to
Haida Gwaii
(formerly known as the Queen Charlotte Islands), which consists of about 150 islands off the coast of British Columbia. More specifically, his location appears to be Gwaii Hanas National Park Reserve.
Mojo has travelled 962 km (over 598 miles) since released back to the wild on May 29th.