Jan/12/13 04:49 PM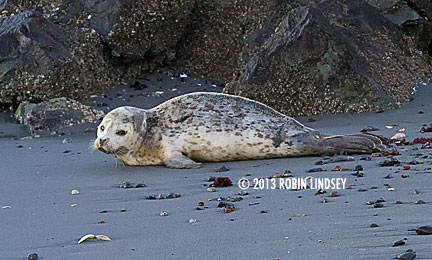 Lounging on a beach with temperatures in the 20's may not sound terribly appealing, but for seal pups needing to rest, a frigid cold snap is no deterrent. Yesterday morning at 6 am our first responder checked Don Armeni Boat Launch to see if the pup from the night before might have hauled back out during the night. Sure enough, a small pup was at the tideline on the ramp, but the skittish pup disappeared into the black water of Elliott Bay.
Our responder waited about 20 minutes to see if the pup might resurface, but had a gut feeling that the pup might swim to the small beach at Duwamish Head. She drove the short distance and just as she peered down onto the dark beach, a pup hauled out. After the pup settled in, she proceeded to close off the beach steps and perimeter off the area above the sea wall. In icy temperatures frozen volunteers watched over the pup, nicknamed Hermosa (lovely in Spanish). Hermosa (above) was still on the beach late last night, but was gone before sunrise this morning. While she could definitely pack on some pounds, she was not the terribly thin, coughing pup that had been at the boat ramp the night before.
Last night, the hotline received a frantic call that a pup that had swallowed a squid fishing jig at the Seacrest Park fishing pier. The reporting party saw the pup swim north, so he headed to Don Armeni boat launch where he discovered a pup the beach. He called, saying there was a pup there who had swallowed a lure. Our first responders arrived at the boat launch within minutes and found a very fat pup resting on the south ramp. Thankfully, the pup was situated under a bright sodium vapor light. We studied the pup closely through binoculars, but could see no evidence of any lure or line or stressed behavior. Instead, the pup seemed very relaxed, stretching and yawing and alert to his surroundings. A perimeter with "Do Not Enter - Protected Marine Mammal" signs was established around the pup. We monitored him closely and sought expert advice from WDFW's marine biologist. It was determined that it was unlikely he had ingested fishing gear. As late as 10:30 the pup, nicknamed Jigger, was sleeping soundly. Either the pup at the pier did not actually swallow a lure or this was a different pup.
At 5am this morning, our responder found Jigger sleeping, nestled up against the sea wall with only about a foot of beach. Finally, at 6:30 the fat little blubberball returned to Elliott Bay.