Nov/03/10 08:41 PM
Today was a busy day for seal pups on the beach with two in high visibility and vulnerable locations. ET hauled out yet again at the boatramp early this morning and late into the evening. His body weight still looks good for a "weaner." The sun brought out alot of curious people who wondered about his blue tag and why he had picked such a busy spot. Tired volunteers worked shifts for the fourth day in a row to protect him.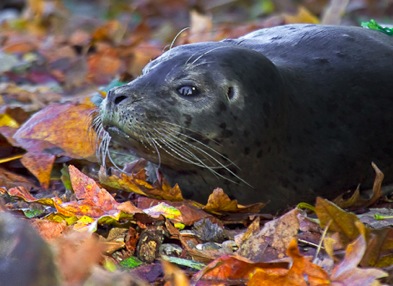 A second pup hauled out at Lincoln Park this afternoon. When our (exhausted and cranky) first responder arrived, there were a number of concerned and well-meaning citizens gathered near the pup. Please remember that the best way you can help seal pups is to GIVE THEM SPACE. Standing within a few feet of a pup causes undue stress when they are trying to find a safe spot to rest - seals and sea lions use the shoreline to rest and warm up. One of the bystanders said a man picked the pup up off the beach and put him back into the water, but the pup returned to shore.
Don't touch seal pups!
It is against the law to touch or move a seal that is on the beach. Keep people and dogs as far away as possible and call Seal Sitters @ 206-905-SEAL (7325). Enter our phone number into your cell phone so you have quick access to help.
The Lincoln Park pup was determined to rest on shore as long as possible. When the incoming tide began to sweep across him, he crawled over a very large log and settled into a pile of leaves where he rested until darkness fell. This pup, nicknamed Leafy, had some blood around his eye, but examination of photos reveal that it is most likely a minor wound on the lid of the eye. If you are walking Lincoln Park early in the morning, please look for Leafy and call us if you spot him. We will be looking for him at first light.
UPDATE: ET returned to the water a few minutes before 10pm tonight after being onshore for 13 hours, his longest haulout to date at the boatramp.