Feb/24/16 07:27 AM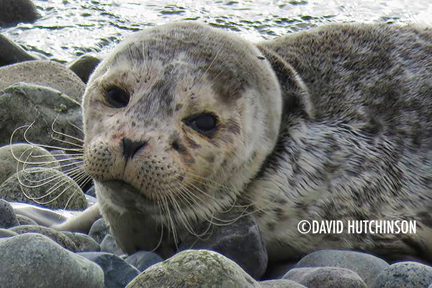 After a spell of inactivity for marine mammal response in West Seattle, a seal pup was reported this morning just south of the Fauntleroy Ferry dock. The reporting party said the pup was up near the driftwood high on the beach, but was startled by someone walking by and had moved closer to the water. First responder Lynn found the pup right at the small public access entryway to the largely private beach. Around 9:30am, the alert pup flop-hopped into the water.
A concerned neighbor asked if he could make signs to warn people, especially those with dogs, that a seal had been using the beach to rest. He was encouraged to spread the word in the neighborhood.
A second call into the hotline around noon was of the same pup at the south end of Lincoln Park's Colman Pool, a highly trafficked pedestrian area. The pup was snoozing soundly at the water's edge, but as the tide rose over the next few hours, he/she kept scooting higher on the beach.
On this nice day, quite a few people stopped to ask questions of volunteers Buzz, David, Jonel and Dana who came down to help out. The afternoon sunshine coated everything with a golden haze, so the pup was named Dusty. Dusty was eventually engulfed by waves and swam off shortly after 3pm.
Thanks to everyone who gave Dusty some "chill" time on shore.