Sep/11/10 08:12 PM
Storm (West Seattle pup) and Sparky (Ballard pup) have each been moved to the outside pools at PAWS. The rehab staff there is "cautiously optimistic" about their chances. There is a bit of concern that the pups are not gaining weight, so they were being tube fed today. However, they are both alert and "feisty" and Storm is reportedly one bitey little girl. Once the pups have completed their quarantine they will be put in the same pool - let's hope they will soon be doing the backstroke together!
Sep/07/10 01:37 PM
We received a "pupdate" on Storm, our little pup that was taken to PAWS yesterday afternoon. According to PAWS, Storm is a feisty female - just like the team of women she is named after! She gained quite a bit of weight overnight, but most of that is from being hydrated with fluids and she now weighs 18.7 lbs. Additionally, Storm has quite a few wounds on her, but the good news is none are infected. The most serious wound is a pretty severe one to her right rear flipper. She is being given a round of antibiotics and nutritional support. She is not out of danger, but Seal Sitters volunteers are greatly encouraged.
If Storm doesn't show signs of the highly contagious disease Brucella, she will be able join the female pup, Sparky, that Seal Sitters helped rescue on Saturday morning. The two pups will go through their rehab together. Many, many thanks to PAWS as always for their incredible work! Please make a donation to
PAWS
designated to defray the extreme costs of rehabbing seals. Stay tuned for more pupdates on these two gorgeous pups.
Pupdate
9/8/10 7:35
Both Storm and Sparky are alert and feisty this morning, but are battling a bit of diarrhea. Rehabilitators are giving them subcutaneous fluids to keep them hydrated while they adjust to their new food.
Sep/04/10 02:23 PM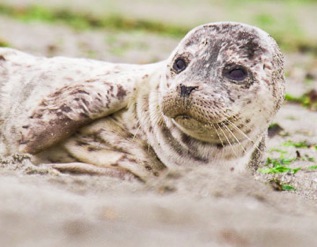 Seal Sitters teamed up with volunteers from the Sno-King Marine Mammal Stranding Network to remove the Golden Gardens seal pup from the beach. The pup had been monitored on the Ballard beach since Thursday and was driven to PAWS for evaluation. After an initial evaluation, PAWS reports that the pup is a weaned female, very emaciated and dehydrated. Seals obtain their water intake from the food they eat and do not drink water. The pup, nicknamed Sparky, also has a number of infected lesions on her underside and flippers as well as an umbilicus infection. She is being stabilized, hydrated and treated for her infections. Seal Sitters will provide updates on the health of Sparky.
This morning Seal Sitters received a report that a group of people had been seen kicking sand on this pup around 8pm last night.
If you see a marine mammal being harrassed or injured it is a
matter for law enforcement
. Call the
NOAA Enforcement Hotline @ 1-800-853-1964
(monitored 24 hrs a day)
and tell them an
animal is being harmed
. If the animal or the public is in imminent danger,
CALL 911.
NOAA Enforcement is not an immediate response team, as there are limited officers in the Pacific Northwest. However, the line is answered 24 hours a day and a harassment should be reported to them immediately. They are an investigative unit and will fine and prosecute violators of the
Marine Mammal Protection Act
with the proper evidence: violator's name, photo, or auto license plate number.
Do not put yourself at risk
to obtain this information. If you need a law enforcement presence because the public or animal is in imminent danger, call 911.


Update 9/5/10. Sparky is doing fine at PAWS today, so keep her in your thoughts.
Update 9/6/10.
PAWS has provided photos of Sparky
who continues to improve.