Dec/28/13 05:32 AM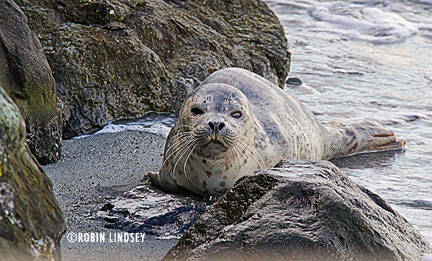 Seal Sitters' hotline operator fielded a call yesterday morning of a seal pup resting on a tiny sliver of beach at Duwamish Head. Two first responders were on the scene within minutes, restricting access to the steps that led to down the sleeping pup. Shortly after getting a buffer zone established on the sea wall above, the incoming tide swept over the
weaner
and we thought he might return to the Sound. Instead, the pup flop-hopped across the sand to the base of the stairs.
Under the watchful eye of volunteers, the pup dubbed Lulu rested until noon, leaving the beach briefly and wriggling back ashore about 30 minutes later. The active pup did two more return trips to the water, but finally settled back in for a sleep from 3:30 until 5pm. Lulu swam off in search of dinner. Since there was no sign of the pup after dark, volunteers cold from the brisk winds went home to warm up after long hours on duty. The perimeter was left intact in anticipation that she might return during the night or early morning. Since this small beach is frequented by people who let their dogs illegally on the beach, it was imperative that the perimeter stay up overnight to protect the pup in the absence of volunteers.
Lulu was reasonably plump and had no obvious health issues during our observation. This is the 62nd positively identified pup that Seal Sitters has protected since July - when we responded to our first pup of the 2013 pupping season, sadly a stillborn pup at Harbor Island.
Very early this morning, Lulu was found snoozing once again on the beach. Based on her tracks in the sand, it appears as if she
hauled out
around 2 am's high tide. Volunteers will be watching over sweet Lulu as long as she needs to rest on shore.