Oct/06/12 10:30 PM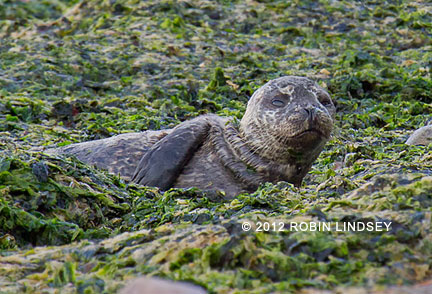 Tumbler came ashore again this morning on what has become his very own private beach. Our responder was out looking for the pup, but at first thought he had not yet arrived on the beach, blanketed with lush green kelp. Then, she noticed one lump of kelp move a bit and a little flipper emerged. Shortly after, a little dark head poked out. A quick phone call to Nina, Seal Sitters' volunteer scheduler for the day, and a lineup of volunteers was soon set into motion.
Tumbler's health is still being carefully observed. He returned to the Sound just as darkness fell, so had at least 10 hours rest today. We can't thank the waterfront residents enough for being so respectful of the struggling pup's presence on their beach - and our dedicated volunteers who have been out for hours in the wind and cold.
10/7 8:15pm PUPDATE

No sign of Tumbler today. If you spot him, whether on public or private beach, please call our hotline @ 206-905-7325 (SEAL). He has some health issues and we'd like to keep an eye on him.
Oct/06/12 05:09 AM
Seal Sitters is happy to report that seal pup Tumbler, who spent a long day at Me Kwa Mooks beach on Tuesday, but wasn't sighted the next day, has found a safe new resting spot. We had some health concerns and were hoping to be able to observe him over the following few days. Early Thursday afternoon, the hotline received a call about a pup on a private beach. Our responder found Tumbler sound asleep on the kelp-covered, pebbled beach.

Since the beach also had a public entrance so we closed that off with Protected Marine Mammal tape and stationed volunteers to keep an eye on him. And it's a good thing we did - a neighbor's offleash dogs ran out of the house and onto the beach about 20 feet away. Thankfully, the volunteer intercepted the dog and Tumbler continued to snooze. He was looking thinner than the other day, but has been coming and going from the beach, which is a good sign that he is foraging for food. Yesterday, he returned to the same stretch of beach and neighbors, as well as Seal Sitters, have been keeping a watchful eye over him. After a long nap on a thick kelp mattress, Tumbler returned to the waters of Puget Sound at sunset. We expect him to return again today.

Since there are such limited options for rehab of a seal pup, we want to ensure that Tumbler gets the best chance possible to survive in the wild - and undisrupted rest is critical to this survival. If you are a waterfront owner, please call our hotline at 206-905-7325 (SEAL) if you have a marine mammal on your beach - even if there is not public access. We monitor the health of all of our animals and a pup's health can take a sudden drastic turn for the worse.

It is curious that for the past two weeks there have been no pups on the Alki platforms, after months of constant use by 5 or more pups. Is it coincidence or harassment by watercraft (fishing boats/kayaks/paddleboards) that has forced the pups to abandon them?
Oct/02/12 11:01 PM
Early this morning, a fisherman called NOAA's Office for Law Enforcement, reporting two seals entangled in a tribal net in the Duwamish River. Officer Jay Dyer immediately called Seal Sitters' hotline and informed us that the net was tied to a dock at Vigor Marine (these are tied to docks without Vigor's permission). Our lead responders immediately mobilized into action, contacting the Harbor Island company to see if we could gain access across the property to get to the nets. At this point, we had no idea if the seals, said to be an adult and pup, were still alive or had already drowned.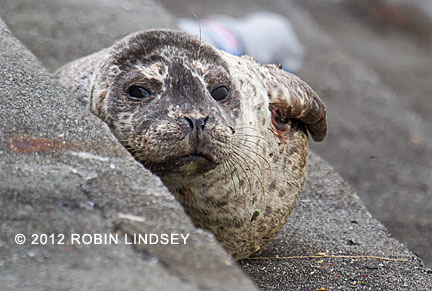 As our volunteers coordinated the task ahead of us, the hotline called again with a report of a seal pup at Me Kwa Mooks Park along West Seattle's Beach Drive. Our responder found a pup lounging high up on the steps leading down to the beach. The dark pup had come up onto the steps at high tide, was alert and looked relatively plump compared to our recent emaciated pups. We taped off a large area so that the pup could get some rest. Volunteers were lined up in shifts to protect him throughout the day and our responders headed off to Harbor Island.
Assisted by Vigor Marine's security officers, we scanned with binoculars the three nets that were strung across the river and tied to docks or shore on the company's property. We could not find any entangled animals. However, this does not rule out that the seals drowned.
It is a very sad fact that each year seals, sea lions and seabirds perish in nets. Most often, it is seal pups that are victims of entrapment - adult seals learn to be much more savvy around the extremely dangerous nets. Each fall, nets are strung across Elliott Bay and the Duwamish River, while Seal Sitters awaits the dreaded call about an entanglement. Perhaps by some miracle these two seals were able to escape. Many thanks to Vigor for their assistance and allowing us access.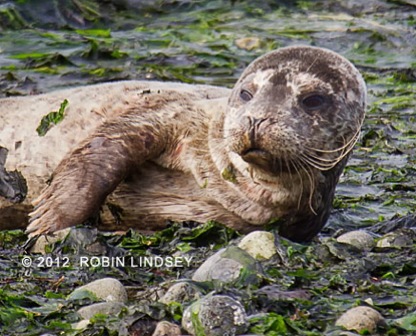 Our responders returned to West Seattle to spend the majority of the day observing the Me Kwa Mooks pup. He had a flipper wound but we could not determine if it was severe enough for concern. He did manage in the afternoon to quickly move down the steps and jump/tumble down the rather tall final step - hence, volunteers nicknamed him Tumbler. The pup spent the rest of the day enjoying the sun on the kelp-covered beach and swam off into the Sound about 4:30 pm as the tide came in. We will on the lookout for Tumbler and keep an eye on his/her health.
Thanks to hotline operator Gordon, schedulers Nancy and Nina and all the volunteers who kept Tumbler safe on this windy and often brisk day.