Jun/25/17 04:06 PM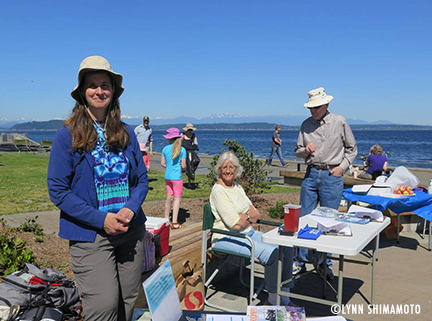 On Saturday morning, 68 passionate environmental stewards (15 of those under the age of 18) donated a total of 115 volunteer hours at Alki Beach, removing dangerous trash from the popular beach, surrounding sidewalks and streets to help keep wildlife safe.
Seal Sitters annual "Sentinels of the Sound" Beach Cleanup was co-sponsored this year with sister network
Sno-King Marine Mammal Response
. Shown in photo is Sno-King's
Rachel Mayer
, Seal Sitters'
Eilene Hutchinson
and
Larry Carpenter
. Rachel and SSMMSN co-investigator
Lynn Shimamoto
talked to the crowd about types and dangers of debris and beach etiquette for walking among invertebrate beach inhabitants. Among the many enthusiastic participants were Seattle
Girl Scout Troup #41404 and Brownies
(2nd and 3rd graders), who recently voted to donate a portion of their cookie sales to Seal Sitters - humongous flipper hugs to the thoughtful girls.
For Seal Sitters, derelict fishing gear is an up close and personal issue. Once again, the cleanup was in honor of newborn
seal pup Sandy
, who was rescued by Seal Sitters in August of 2011 and rehabilitated at PAWS Wildlife Center. After months of rehab, she was finally released back to the wild, but found dead 66 days later, entangled in derelict fishing line off the Edmonds pier.
The event was also in honor of the
juvenile gray whale
that died on Arroyos beach in April of 2010. The necropsy revealed only human trash in the whale's stomach.
Did you know that an estimated 80% of
marine debris
originates from land? Or that
360 billion
cigarette butts are discarded in the U.S. alone each year - all of them leaching toxic chemicals into the soil and waterways? Derelict fishing gear and plastics
injure and kill many
thousands
of marine mammals and seabirds annually.
Learn more in-depth about the
dangers of marine debris
by visiting Seal Sitters' website.
Thanks to everyone who gave wildlife a helping hand on Saturday!