Dec/10/13 09:44 PM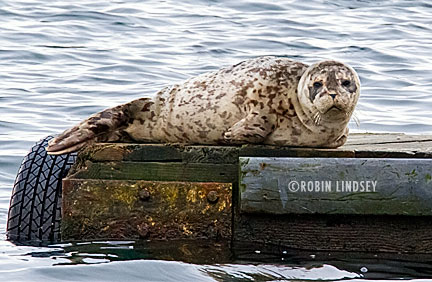 Yesterday morning, on a routine check of the beaches and coves' nooks and crannies for seal pups, our first responder noticed one lounging at the end of a dock at Don Armeni boat launch. She placed informational signs at the entrance to the dock, closing it to foot and boat traffic. The weaned pup, anywhere from 3-6 months old, was alert and on the chubby side - a warming sight in 30 degree weather.
Volunteers kept watch over the pup, nicknamed Frio (cold in Spanish), for the next couple of hours. Around noon, a boat motored in to tie up at a second dock opposite the pup (closed to onlookers, but open to boaters for launch and retrieval). The activity spooked Frio who slid off this perch and vanished into Elliott Bay.
There hasn't been much seal activity on shore since Thanksgiving Day when we captured and transported Moonshadow to
PAWS
. Temperatures have plummeted into the 20's to low 30's. There have been many days, such as yesterday, when the air temperature has been almost 20 degrees colder than the waters of Puget Sound/Elliott Bay (
click here for a website
showing real-time daily air and water temperatures in Northwest Washington).
During these cold snaps, seals often opt to rest in the Sound rather than brave the frigid air and wind. Since harbor seals' nostrils are naturally closed (they must force them open to take a breath), they can deep dive and sleep in the water. During storms and freezing weather, they often "bottom rest", coming up for air every 20-30 minutes. Healthy seals are insulated with a thick layer of blubber which keeps their body core temperature a toasty 100 degrees F. This fat layer is also metabolized to provide energy. Thinner harbor seal pups with very little blubber to keep them warm are susceptible to hypothermia and other health issues - and these winter months can take a terrible toll. Thankfully, Frio appears to have a bit more insulation than most pups have had this season - truly a holiday gift for volunteers!