Sep/03/15 09:36 PM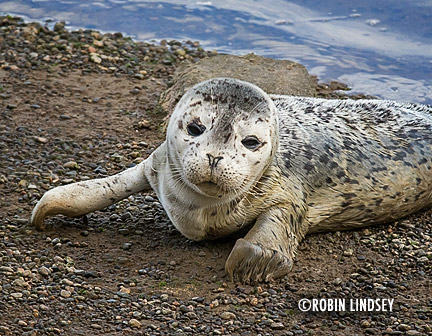 Seal Sitters' hotline has been surprisingly quiet the past two months after a flurry of newborn harbor seal pup activity in June. The drought in calls ended around 5:30 pm this evening, however, when hotline operator Renee fielded a call about a "possibly injured" pup resting in the Duwamish Waterway.
First Responders Lynn and Robin met reporting party Ray at the scenic park, where he led them down a winding path bordering a quiet lagoon. The small, thin pup was sound asleep at the water's edge.
Protected Marine Mammal tape was strung between trees to close off access to the beautiful seal, with his (or her) silky white coat with fine black spots. On the opposite side of the lagoon, tape and signage defined the area as off limits as well.
The responders observed his behavior through binoculars and did not see any overt sign of injury. The evening tide was quickly rising and the pup moved several times on the tiny beach, reluctant to return to the river. Terribly thin, it was obvious that the pup was not being tended to by an adult female and most likely has been weaned.
Weaners
can quickly burn through their body fat in the weeks after weaning, before mastering the tricky art of catching fish and squid.
Around 6:30, as the tide swirled around him, the pup nicknamed Rio swam off into the still waters of the Duwamish, which reflected the pinks and blues of the evening sky. We hope he is successful foraging tonight and we'll be on the lookout for Rio throughout the day tomorrow.