Jul/29/11 07:24 PM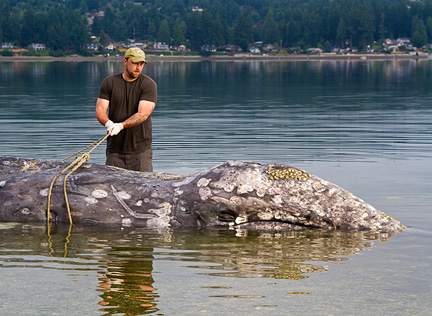 Early yesterday Seal Sitters participated in the necropsy of a juvenile gray whale that stranded in Bremerton's Dyes Inlet. The emaciated whale died on a stretch of private beach on Wednesday morning. The necropsy team led by Dyanna Lambourn, WDFW Marine Mammal Investigations, and Jessie Huggins, Cascadia Research, consisted of biologists, interns and volunteers from Cascadia, WDFW, Compassionate Critter Care, West Sound Wildlife, and Seal Sitters Marine Mammal Stranding Network (SSMMSN). As the team assembled and discussed logistics, WDFW's Josh Oliver (above) evaluated the situation with the receding tide. Tissue samples were obtained for various lab tests in hopes of determining the cause of death; however, it appears most likely that a number of factors contributed to the young whale's demise.
Read in more detail
the findings on Cascadia's website.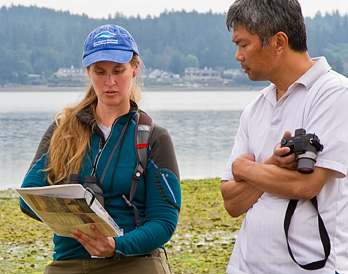 Shown at right, Seal Sitters co-lead investigator Rachel kept curious onlookers informed as to the necropsy process and shared information on the fascinating world of gray whales. This the 4th gray whale to have stranded this year - a number that is well within the normal range for our area.
Necropsies of marine mammals are vital to understanding the health of overall populations - as well as, of course, the cause of death for an individual animal. The work performed by the biologists, interns and volunteers is not only a challenge of mental and scientific sleuthing, but also an extremely physical endeavor.
View a gallery of the whale's necropsy.
WARNING: While we have edited images carefully to be representative of the necropsy, but not overly graphic, it is not suitable for viewing by small children.