Jun/02/15 09:41 AM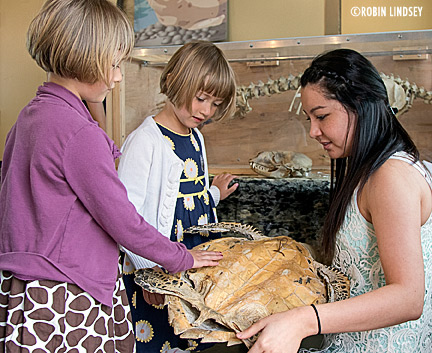 An estimated 600 people of all ages from the Puget Sound region and beyond attended Sunday afternoon's Flipper Fest on Alki Beach. Sponsored by Seal Sitters MMSN, there was truly something for everyone at the event.
A non-stop steam of kids waited to be "tattooed" with seals, orcas, turtles and even butterfly wings by immensely popular and talented face-painter LaShanna Williams. As they stood patiently in line outside the Bathhouse, there were opportunities to talk with orca experts from
NOAA Protected Resources
and
The Whale Trail
about the life-size, inflatable replica of
J-pod
member, J-26 or "Mike". Inside the building, the public and volunteers discovered how scientists study killer whale populations. They were challenged to match up photos of orca fins and
saddle patches
with resident J-pod whales in group photos - just like the researchers do to identify orcas in the wild. As they did so, NOAA educator Peggy Foreman shared facts and life history about each animal.
Exhibitors brought an extraordinary array of artifacts for the public to examine (photo above:
WDFW Marine Mammal Investigations
intern shows off a sea turtle). Among the many marine biology items on display were fully articulated skeletons of an adult harbor seal and male sea otter, an ear bone from a gray whale (big and
heavy
), and 8-ft long piece of baleen from a bowhead whale, huge teeth from a sperm whale and flipper bones from a harbor porpoise.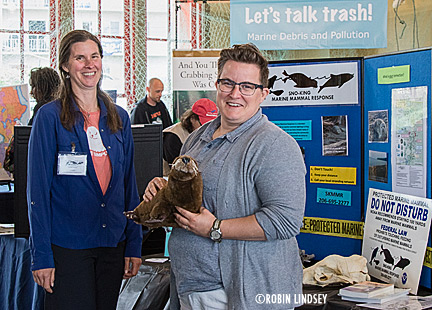 Representatives from NOAA's West Coast Marine Mammal Stranding Network were on hand to talk about responses to live and dead marine mammals, as well as the upcoming harbor seal pupping season and what to do if you see a seal pup on the beach. Groups included Seal Sitters MMSN, Sno-King Marine Mammal Response (shown at left with a not-so-scientific plush toy for the youngest attendees), MaST Stranding Team, WDFW-MMI and Cascadia Research (for a map and contact info for the networks,
click here
).
There were lots of opportunities to learn not only about the marine life of Puget Sound and the Pacific Northwest, but also how to protect it from the many dangers of marine debris,
derelict fishing gear
and pollution. In the "Let's Talk Trash" corner which was draped in gill nets, crab lines and buoys,
Puget Soundkeeper Alliance
,
Tox-ick,
Seal Sitters and
Northwest Straits Foundation
showed informative videos with interactive displays. Adults and kids alike took the "Escape Cord Challenge" and learned how crab pots work - and about the urgent efforts being made to reduce the number of whale entanglements in crab gear. Experts explained about the trash and toxins that enter our waterways from streets, sidewalks and sewers. By sharing powerful information and adopting simple lifestyle changes, we can all work together to make our marine environment safer for wildlife.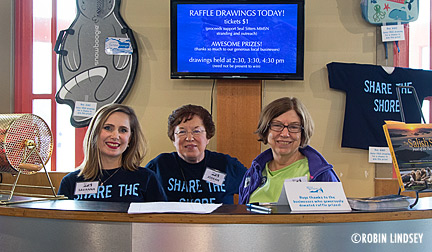 After months of preparation, almost 50 Seal Sitters volunteers pitched in on Sunday to make the event a success. Volunteers began arriving as early as 9am toting ladders, banners, signage, iPads, refreshments and their own personal tv monitors to display videos.
Like clockwork, tables were set up according to pre-planned diagrams, including a kids art area and raffle booth. The in-progress bottle cap artworks (inspired by East Coast artist
Denise Hughes
) were placed on easels next to hundreds of colorful caps, awaiting children's imagination. Thanks to
Denise who donated a print of "Seal Pup" bottle cap piece
, created especially for this event (from a Robin Lindsey photo of seal pup Shanti). It adorned the entrance from Alki Beach. Volunteers directed arriving exhibitors and helped unload vehicles and provide any additional assistance.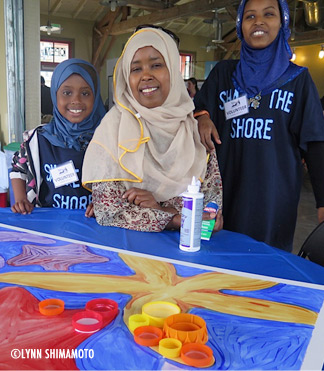 Promptly at 1pm, the yellow "protected marine mammal" tape was removed from the entrances and Flipper Fest opened to the public. The Bathhouse immediately filled to capacity with an excited crowd. It is estimated that approximately 600 people (based on "clicker" counts from volunteers at the 4 entry points) attended Flipper Fest, even though the weather turn brisk and breezy later in the afternoon.
Special thanks to everyone who participated - the Flipper Fest exhibitors
who so elevated this event with such amazing displays and expertise,
the many area businesses
who donated prizes
for the raffle drawings and raised funds for Seal Sitters' stranding and educational activities and
the many people who purchased the $1 tickets
!
Flipper hugs and humongous thanks to our Seal Sitters volunteers
(including Ayan and her daughters Falhado and Sumaiyah who helped out at the kids bottle cap art table). You all continue to amaze us with your environmental stewardship and dedication to protecting marine life!
For related posts listing all participants and contributing businesses, please
click here
.
(please check back for more photos)
May/25/15 05:50 PM
Pinnipeds, cetaceans and invertebrates - oh, my! Flipper Fest is coming up soon - May 31st, just three weeks away. Make sure to stop by the Alki Bathhouse from 1-5pm and learn from the experts about the marine mammals of Washington - from tiny harbor seal pups (a "pinniped" species) to giant humpback whales (a "cetacean" species).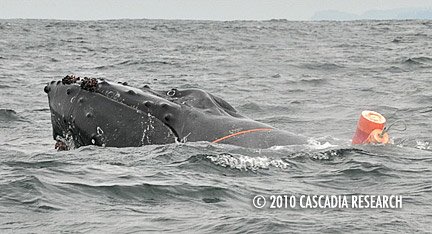 Did you know that a record number of humpback and gray whales - at least 30 - were entangled in fishing gear last year, mostly crab pots?
As of April, at least 25 entanglements had been reported off California alone for 2015
, on a tragic record-setting pace. The line securing crab traps to buoys cuts deep into a whale's flesh, causing serious injury or death.
At Flipper Fest, you'll learn from
Northwest Straits
how to secure your crab pot
to lessen drifting, derelict pots that endanger whales and often entrap and kill other sea life. It's just one of the many ways we can keep our waters safer for those who call Puget Sound home. Visit the "Marine Debris and Pollution" exhibits at Flipper Fest to find out how you can help. At the "Cetacean Station" exhibits, you can talk to
Cascadia Research
about their first-hand, dangerous - and often, lifesaving - whale disentanglements over the past years. Read about a challenging
May 2010 disentanglement of a humpback
by Cascadia's team off the Washington coast (photo above). For the story and video of another whale disentanglement off the California coast last year,
click here
.
Crunch. "Oops!" Find out why you need to be extra careful exploring the beach rocks at low tide. It's so you don't destroy habitat for "invertebrates" like sea snails, sea stars and hermit crabs - or scrunch them or their young. Seattle Aquarium
Beach Naturalists
will be at the event all afternoon to answer your questions about this fascinating miniature world. You'll leave knowing why it's never a good idea to pick up or relocate these extraordinary critters.
Local businesses have donated some
fantastic raffle prizes
- everything from food to kayaking to area attractions. Whale-sized thanks for their generosity! Tickets are $1 and will benefit Seal Sitters' educational outreach and marine mammal stranding work. Drawings will be held at 2:30, 3:30 and 4:30 (you need not be present to win). There will be a
free prize drawing for kids attending Flipper Fest
, with a chance to win a "Share the Shore" t-shirt, seal boogie board or ocean backpack.
LIST OF PRIZES:Alki Kayak and M2S
– Sunset Kayak Tour for 2 people
Alki Spud Fish and Chips
- $50 gift card
Baked.
- $30 certificate for custom cake
Bakery Nouveau
– certificate for 8" Triple Layer Chocolate Cake
Barnes & Noble
- $25 gift card
Costco
- $50 gift card
Cupcake Royale
– 12 cupcake certificates
EMP Museum
– 4 admission passes (2 winners of 2 passes each)
Joe Gaydos
– autographed copy of
The Salish Sea
book
M2S (Mountain to Sound)
– Ski or Snowboard weekend rental
Marination Ma Kai
– (four) $10 gift cards
McLendon Hardware
- $25 gift card
Northwest Art & Frame
- $50 gift card
Pacific Science Center
– Family Pass for 4, including IMAX
Pegasus Books
- (2) $25 certificates (2 winners of 1 each)
Salty's on Alki
– 2 brunch certificates
Seattle Aquarium
– 4 Guest Passes
Seattle Sounders FC
– autographed mini soccer ball
Stuffed Cakes
- $20 gift certificate
Wild Birds Unlimited in Burien
- $25 gift card
Woodland Park Zoo
– Family Fun Pack passes
May/10/15 05:18 PM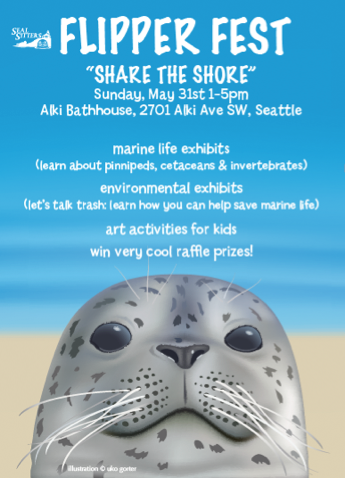 Seal Sitters is excited to announce "Flipper Fest", a free educational outreach event celebrating the marine life of Puget Sound and the people who do the work to protect it, will be held on Sunday, May 31st, at the Alki Bathhouse.
Come learn about the many marine mammals of Puget Sound, large and small!
Representatives from area marine mammal stranding networks, marine biologists, whale researchers and educators will share their knowledge and materials. There will be lots of hands-on exhibits, including skulls and pelts to examine - even an underwater robot used for videos. Environmental groups who focus on marine debris and pollution will show ways you can help save marine life, the easiest of which is by reducing waste and picking up litter!
There will be opportunities for kids to create marine-themed art. Inspired by the large-scale bottle cap works by artist Denise Hughes (
visit her website here
), Seal Sitters volunteers have been collecting plastic caps which will be used to create interactive artwork at the event.
Included in Flipper Fest activities will be raffle drawings throughout the afternoon with an opportunity to win some pretty awesome prizes. Tickets are $1 and proceeds benefit Seal Sitters' stranding and educational outreach activities.
For a complete list of prizes generously donated by local businesses, click here.
There will be a special free drawing for kids (for an opportunity to win a "Share the Shore" t-shirt, seal boogie board or ocean backpack) and a face painter will be on-site.
Weather permitting, a life-size inflatable orca (approximately 20' long by 12' high) will provide a great photo op - and impress you with the scale and beauty of our local pods.
FLIPPER FEST EXHIBITORSMARINE MAMMAL STRANDING NETWORKS
respond to all marine mammals, but will have a
pinniped (seals, sea lions)
focus for this event:
Seal Sitters MMSN
NOAA West Coast MMSN
MaST
Sno-King Marine Mammal Response
WA Department of Fish and Wildlife - Marine Mammal Investigations
, a leading researcher of emerging diseases in marine mammals who provides necropsy and response for NOAA MMSN.
PAWS Wildlife Center
, seal rehabilitation partner of NOAA MMSN.
CETACEANS (whales, dolphins, porpoises):

Cascadia Research Collective
performs research to protect marine mammals, with a focus on cetaceans.
American Cetacean Society
, Puget Sound Chapter with a special focus on local orcas and environment.
NOAA Protected Resources
works to conserve, protect and recover species of marine mammals and sea life.
The Whale Trail
inspires stewardship of whales and environment by providing a network of viewing sites.
MARINE DEBRIS AND POLLUTION:

Puget Soundkeeper Alliance
actively patrols and monitors the health of Puget Sound.
NW Straits Foundation/Derelict Fishing Gear Program
will demonstrate how to secure crab pots to keep from endangering marine mammals.
Tox-ick
is dedicated to preventing stormwater and polluted runoff through stunning video documentation.
INVERTEBRATES:
Seattle Aquarium Beach Naturalists
will help you identify the tiniest of beach critters, so you can enjoy the beach without harming them!
WHEN:
Sunday, May 31st from 1-5pm
WHERE:
Alki Bathhouse, 2701 Alki Ave SW, Seattle (map it)

Mark your calendars for Flipper Fest and bring your friends!