Jan/06/13 09:55 AM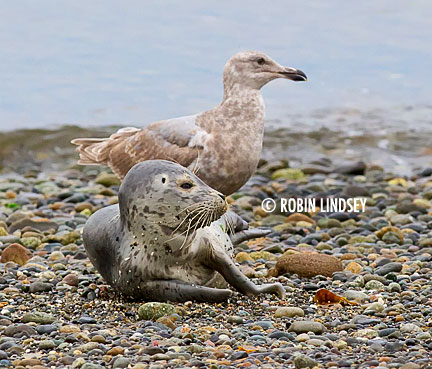 A quick-witted walker strolling along the Alki promenade admiring the snow-covered Olympic Mountains, noticed a small pup coming ashore mid-afternoon yesterday and gave our lead investigator a call (thank you, Kim!). Within minutes, Seal Sitters' responders were on the scene establishing a buffer zone around the pup with tape, cones and sandwich boards with informational signs.
The thin, but alert pup, nicknamed Kitsap, settled in for a nap as people gathered on the sidewalk above. Not too long afterwards, however, a curious young seagull, approached the pup and began pecking at his rear flippers. Needless to say, the pup wasn't terribly thrilled and flapped his front flipper to deter the gull, who was quite determined to see if there might be something to scavenge on. Eventually, the gull grew disinterested and little Kitsap drifted off for a long snooze. Volunteers watched over the pup til after dark and he (or she) returned to Puget Sound between 8:30 and 9:30 pm.
The photo with a young seagull for scale gives you an idea just how small a 4-6 month old pup can be. Kitsap may be the pup who has been using the offshore platform of late.