Sep/30/11 08:51 PM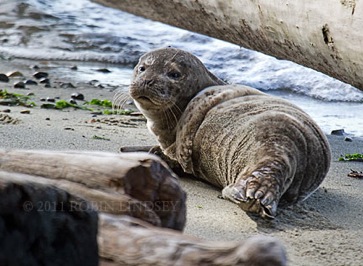 Seal Sitters' West Seattle volunteers are dragging from very long hours watching over multiple pups on beaches on all corners of our community. Wednesday morning, Bianca returned to her favorite, not so safe spot. She looked healthy and rested for a number of hours. The hotline also received a call about a seal pup at Lincoln Park. Good samaritan Jim protected a very rotund Blacky on the log-covered beach (see photo) until our over-extended volunteers could arrive. Thank you so much, Jim! And thanks, too, to Trileigh and Barb who did the same last week, keeping people and dogs away until we could arrive at the park. Blacky crawled up closer to the sea wall and slept among the logs.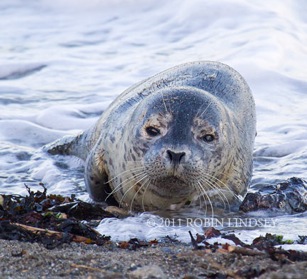 Late in the afternoon, we received a call that a small pup had just hauled out on a city-side beach (photo left). Our responders found the very small and chubby pup resting in the waves. Nicknamed Oona, he had a very long snooze on the beach as the Seattle skyline twinkled at dark. He was so fat and small that we thought we might have a nursing pup; however, photos of teeth reveal that he is indeed weaned and on his own.
Yesterday, volunteers were stretched to the max as we had
four
pups on shore at the same time in different West Seattle locations. We had pups at two different Beach Drive parks, a pup hauled out a city-side beach and seal pup Bianca, who returned for the fifth day in a row, resing a full ten hours before she returned to Elliott Bay at high tide. Needless to say, our volunteers were exhausted and we cannot thank them enough. The hotline handled 22 phone calls yesterday. The hotline operators and volunteer schedulers deserve many kudos for all their hard work, day after day.
The Sno-King wing of Seal Sitters (responding to calls in Seattle and beaches to the north) has been looking after a pup who has been returning to the same beach for several days running.