Jul/27/16 09:19 PM
This past weekend, the scene at
Alki Beach
in West Seattle was indeed a crazy one. The annual Alki Art Fair, with live music, art exhibits, craft and jewelry booths and food vendors, lined the crowded beach promenade. The many participants included Seal Sitters MMSN, where volunteers manned a booth displaying educational materials and a hands-on art project for kids.
Adding to the throng of people, there was a beach volleyball tournament taking place mid-beach with hundreds of participants and fans. A steady stream of people toting kayaks and paddle boards crossed the beach from Alki Kayak rentals and lingered offshore. Families picnicked and kids played in the shallows.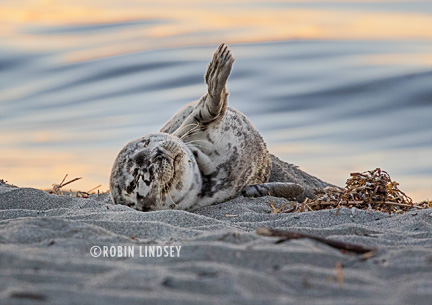 Amid all this chaos, a tiny and thin harbor seal pup sought sanctuary to rest and flopped ashore late Saturday afternoon - smack dab in front of the volleyball courts. First responders taped off the area and the young pup rested until dusk (stretching in the evening light, photo at left) before returning to Puget Sound.
Over the course of three days, the pup nicknamed
Little One
came and went from the stretch of sandy beach at Alki, keeping Seal Sitters First Responders on their toes and requiring long hours of protection. Seal Sitters volunteers pitched in to help keep the pup safe on this beach, popular with sunbathers, swimmers and water sports - and (illegal) dogs.
Keeping kayakers and paddle boarders away was our most difficult challenge. The pup showed obvious signs of stress when these small vessels were with 50 yards offshore. Little One was too young to understand the dangers on land.
What could have been Seal Sitters' worst nightmare of a pup on a crowded urban beach ended up being a fantastic few days with an appreciative and respectful public. In addition to folks from the Puget Sound region, our volunteers educated visitors from all over the U.S. and world, including China, Australia, Germany, Wyoming, Georgia, Philadelphia, Ohio, Texas, Oklahoma, Missouri, California, and Alberta, Canada. The many thank-you's from these visitors were perks to tired volunteers.
Each day, the pup lingered longer onshore. Late Monday afternoon, Seal Sitters' Lead Investigator consulted with a marine mammal veterinarian and Stranding Network marine mammal experts about the pup's thin condition, as well as the inherently dangerous location. Working together to make a joint decision based on limited rehabilitation options, it was determined that the pup would be captured the following day. Little One would be relocated to a safer area, the closest harbor seal haul-out and
rookery
site, where the estimated 3-4 week old pup could potentially get adopted or even reunite with mom.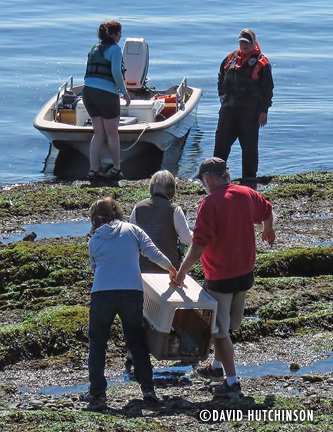 Little One came ashore very early morning the 4th day. She returned to the water twice - once due to kayakers too close and the second trip due a pesky, pecking seagull. Seal Sitters First Responders worried that they might not have an opportunity for a successful capture.
Finally, the pup finally settled in about 10 feet from the tide line. First Responders quietly crept along the water's edge and picked up Little One. The pup was transported to a quieter location, where a boat with WDFW Marine Mammal Investigations Unit's marine mammal biologist and volunteer was waiting to whisk LIttle One away.
The small female pup was examined, hydrated with fluids and Dextrose for energy and released at a seal
haul-out,
where up to 100 harbor seals gather at times. A red tag was placed on Little One's rear flipper before being set free, in hopes of re-sighting her on the ridge of rocks situated safely in the Sound, far away from humans and dogs. We will provide updates if the pup is sighted during WDFW-MMI's frequent surveys of the area.
Thanks to all of the Seal Sitters volunteers who showed poise and patience under trying circumstances and extremely hot weather.
Heartfelt thanks as well to the people who let us know when Little One came ashore on Saturday and Sunday, enabling us to protect the vulnerable pup as soon as possible.
Seal Sitters hotline received reports of two other pups on Sunday and Monday, but they could not be located when our responder arrived.