Dec/10/13 09:44 PM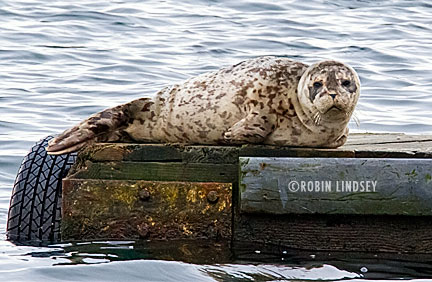 Yesterday morning, on a routine check of the beaches and coves' nooks and crannies for seal pups, our first responder noticed one lounging at the end of a dock at Don Armeni boat launch. She placed informational signs at the entrance to the dock, closing it to foot and boat traffic. The weaned pup, anywhere from 3-6 months old, was alert and on the chubby side - a warming sight in 30 degree weather.
Volunteers kept watch over the pup, nicknamed Frio (cold in Spanish), for the next couple of hours. Around noon, a boat motored in to tie up at a second dock opposite the pup (closed to onlookers, but open to boaters for launch and retrieval). The activity spooked Frio who slid off this perch and vanished into Elliott Bay.
There hasn't been much seal activity on shore since Thanksgiving Day when we captured and transported Moonshadow to
PAWS
. Temperatures have plummeted into the 20's to low 30's. There have been many days, such as yesterday, when the air temperature has been almost 20 degrees colder than the waters of Puget Sound/Elliott Bay (
click here for a website
showing real-time daily air and water temperatures in Northwest Washington).
During these cold snaps, seals often opt to rest in the Sound rather than brave the frigid air and wind. Since harbor seals' nostrils are naturally closed (they must force them open to take a breath), they can deep dive and sleep in the water. During storms and freezing weather, they often "bottom rest", coming up for air every 20-30 minutes. Healthy seals are insulated with a thick layer of blubber which keeps their body core temperature a toasty 100 degrees F. This fat layer is also metabolized to provide energy. Thinner harbor seal pups with very little blubber to keep them warm are susceptible to hypothermia and other health issues - and these winter months can take a terrible toll. Thankfully, Frio appears to have a bit more insulation than most pups have had this season - truly a holiday gift for volunteers!
Dec/05/13 04:19 AM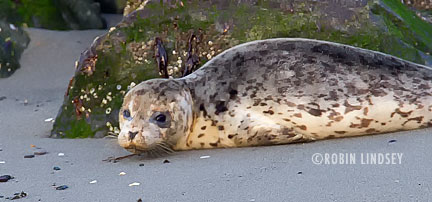 We are terribly sad to report that Moonshadow died at
PAWS Wildlife Center
in Lynnwood on Friday, November 29th. The pup was rescued from the beach at Duwamish Head (Anchor Park) early Thanksgiving morning and transported for stabilization and treatment.
Seal Sitters' first responders and volunteers had observed Moonshadow over the course of a week as he came ashore almost every evening at dark and returned to the Sound near sunrise. On Sunday, he spent an uncharacteristic 22 hours on the beach which raised concern. The next day, however, Moonshadow returned to his behavior of 12-14 or so hours on shore. Still, it was evident that the pup was having some health issues, though he was not exhibiting severe symptoms such as prolonged coughing. On Wednesday morning the pup remained on the beach at daylight, but was at the tide line and capture was too risky. Responders had to be assured that we could successfully capture Moonshadow - if we were not successful, the frightened pup would most likely abandon this relatively safe haul-out site (a small beach with only one public entrance, blocked off with Protected Marine Mammal tape to deter access). Because of PAWS shortened winter hours, a capture could not be performed after dark. Early Thanksgiving morning, the sleeping pup had blood from the nose and the conditions were ripe for capture. First responders swiftly swept up the pup and transported him to PAWS.
Moonshadow weighed 11.7 kg on intake Thanksgiving morning - certainly thin, but not as thin as most of the pups we have protected this year. He did exhibit discharge from the nose and mouth. The pup died overnight.
NECROPSY FINDINGS
Heartfelt thanks to PAWS' staff and Dr. Bethany Groves for performing the necropsy in hopes to determine cause of death. The necropsy revealed that his airways were "jam-packed" with adult lungworms and the pup had parasite-related nodules throughout his lungs. Additionally, Moonshadow had pneumonia, likely due to the parasitic infestation. This infection is likely the cause of death. The pup also had a large number of roundworms in his stomach, but no food. Medical treatment to kill off such a high worm load can be extremely dangerous in itself to a weak pup. All weaned pups have some level of parasite load this time of year, but those with weakened immune systems are often not strong enough to keep opportunistic parasites and related viruses at bay - a very sad and hard fact.
Thanks to Seal Sitters' many dedicated volunteers and a concerned public who allowed Moonshadow to rest undisturbed on this urban beach. Moonshadow's death reinforces just how vulnerable these seal pups are and how quickly their health can tailspin. Sharing the shore gives them a much better chance to survive.
Nov/26/13 06:13 AM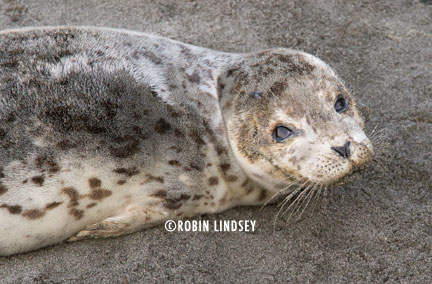 (see "pupdate"end of story)
Just after sundown and a little before high tide, a spotted seal pup has been wriggling ashore on a West Seattle beach to seek shelter. The pup was fist reported Wednesday evening on the sand beneath a bright moon and has come ashore like clockwork every evening since, except Saturday. Each evening, first responders would block off the entrance to the tiny beach and the grassy area above the pup, nicknamed Moonshadow, so that he could sleep undisturbed. And each morning, just before sunrise, Moonshadow would return to the cold waters of Puget Sound after a 12-hour rest (normal behavior for seal pups).
That is, until yesterday. The pup showed no interest in returning to the water to forage early in the morning. Instead, as the tide inched closer, Moonshadow inched further up on the sand. Volunteers stood watch in two-hour shifts, talking with the public and informing folks that winter months are a struggle for seal pups. Almost all pups this time of year are battling lungworm and tapeworm loads which often lead to viral infection. Rest is
critical
to help boost the weaned pup's immune system and help fight off disease.
Moonshadow finally, and somewhat reluctantly, crawled towards the water around 4pm, rested a bit more and then swam off in the approaching darkness - after resting approximately 22 hours. Volunteers removed the tape perimeter and discussed concerns about his health.
Sometime late last night or in the morning's wee predawn hours, Moonshadow came ashore again. He was sleeping soundly when Seal Sitters' first responder arrived at 6am. The incoming tide swept over his flippers around 8 and the pup swam off in search of breakfast. There were fresh human and dog prints on the small beach. Please remember that
dogs are NOT ALLOWED on Seattle beaches
- leashed or unleashed. They are an inherent danger to vulnerable seal pups who are unable to move quickly on land - additionally, disease can be spread between species. An off-leash dog is reported to have mauled and killed a seal pup in Everett earlier this season.
We fully anticipate that Moonshadow, who may be suffering from an ear infection and parasite load, will be back today. Volunteers will continue to monitor his health. Please call Seal Sitters' dedicated hotline (206-905-SEAL) if you see a pup or other marine mammal onshore.
PUPDATE
11/27/13 2:21pm
Moonshadow came ashore at 6:05pm last evening, returning to the water to forage at 8:15am this morning. We anticipate he will return to this safe haulout again tonight. Continued long periods of uninterrupted rest will help strengthen Moondshadow's immune system, compromised by lower body weight and colder weather. Seal Sitters volunteers will continue to keep a close eye on his health.
11/28/13 Thanksgiving Day
Seal Sitters' first responders captured Moondshadow and transported him to PAWS for stabilization and treatment.
The pup's health had been declining over the past couple of days, but due to tides and the pup's position on the beach, we had not been able to ensure a successful capture until early this morning.