Aug/12/12 02:24 PM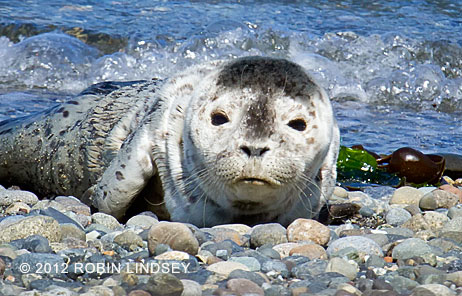 Shortly before 10 this morning, the hotline received a report of a "thin" seal pup on the beach at Lincoln Park. The caller, Betsy, and her friend stood guard over the pup, keeping people at a distance until our responder to could make the trek to the park and then the long haul from the parking lot to the pup's location. We can't thank them enough for keeping the pup safe until we could set a perimeter.
The pup was definitely thinner than we like to see. Since we were not able to see a yawn (and therefore how many teeth the pup had), we can't approximate the age, but are assuming the pup has been weaned and struggling to catch fish on his/her own. Pups are usually weaned at 4-6 weeks old. The pup had a good snooze as volunteers explained to the public that this is normal behavior for a pup to be resting on the beach and that most likely mom is no longer in the picture. The white, spotted pup was nicknamed Casey and returned to the water around 12:30 as the incoming tide lapped at his flippers. We hope the pup is able to snack on some of the tiny fish that are abundant around Point Robinson these days.
Please keep alert as you walk the beaches in West Seattle and surrounding waterfront communities. We are now in the throes of pupping season. Casey is the third pup at this early juncture in the season - usually September and October are high season for weaned harbor seal pups using South Puget Sound beaches. If you come across a pup, please call our hotline at 206-905-7325 (SEAL).
As our volunteers walked out of Lincoln Park, we reminded a man whose dog was swimming and running on the beach that
dogs are not allowed on beaches
. A weak pup stands no chance to escape from an excited dog. Within the past two weeks a pup was killed on a nearby island by an off leash dog.