Nov/29/15 03:45 PM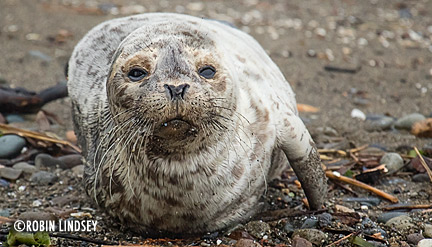 Seal Sitters first responder was shocked to see an incoming call from hotline operator Julia this morning. Could we actually have a pup on shore after such a long drought in responses? Yes, indeed. Someone reported a seal on the public access beach at Jack Block Park.
Our responder arrived minutes after the phone call and found the snoozing pup about 6 feet above the tide line.
Thankfully, no one was on the beach - or seemingly even in the park on this chilly and foggy day. A quick perimeter was set with sandwich boards and yellow tape on the sidewalk just above the resting pup. The small beach entrance was taped off as well (thanks to the quick-thinking soul who had set a construction sandwich board there!).
Soon afterwards, the pup started to stir and make the slow trek to Elliott Bay. After slipping into the gray, still waters, the pup was seen offshore for a short time, but then disappeared. After the materials had been removed from the area, our responder talked with 12-year-old Sophia about the pup she had just missed seeing. After looking at photos, she christened the pup Clover.
Clover was on the thin side, but seemed reasonably healthy for a weaner headed into winter. We'll be on the lookout for him/her. If you see a pup onshore, make sure to give the hotline a call at 206-905-SEAL (7325).
This past week other seals have been seen resting on offshore platforms, so we do seem to have seals in the area. Perhpas they are just finding safer places to haul out this season.