Mar/31/13 09:11 AM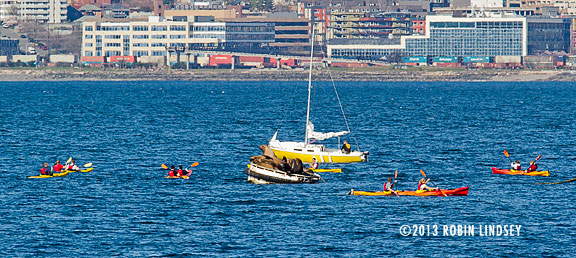 Fair warning to all recreational boaters, including kayakers:
Any harassment of the sea lions resting on the Elliott Bay buoys is being photographically documented
and sent to NOAA's Office for Law Enforcement. The Marine Mammal Protection Act prohibits harassment of marine mammals. Stay 100 yards away from any marine mammal resting on shore, buoys, or in the water. It is
against Federal Law
for boaters to be as close as shown above, taken yesterday afternoon.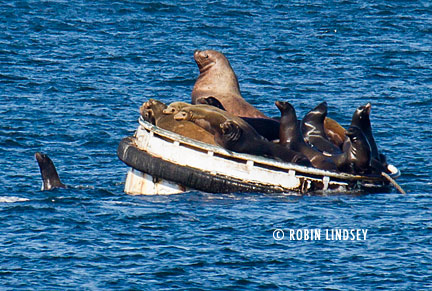 Currently, among the male California sea lions (CSL) who regularly use the mid-channel buoys to rest and warm up, is more than one endangered
Steller sea lion
. This includes a huge Steller
bull,
estimated to be approximately 9 feet in length and weighing upwards of a ton, significantly larger than CSL males. You can see the distinct size difference in this photo. It is extremely dangerous for a kayaker to approach a potentially aggressive bull. This large, potentially irritated animal could leap from the buoy and injure someone.
So, please obey the law and observe these majestic animals from a respectful distance. This also includes resting seal pups along our shoreline. All
pinnipeds
require time out of the water to rest and regulate their body temperature. If you see a violation and are able to take a photo, try to get a boat license number if at all possible and
email photos to us
. We will forward to Office for Law Enforcement.
Sep/17/12 07:27 PM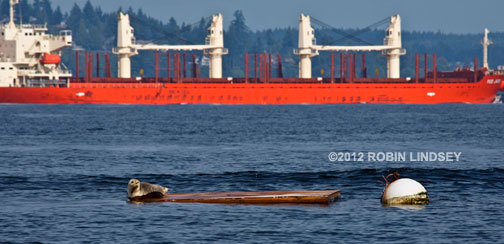 Three offshore platforms along Beach Drive and Alki Avenue are being heavily used by seal pups (and adults) the past couple of weeks. These "life rafts", as we call them, are truly that. They provide safe haven offshore for pups to rest undisturbed. Rest is vital to a seal's survival. Unlike many marine mammals, they cannot swim constantly. They spend about 1/2 their day resting and warming up out of the water.
In our urban areas, with crowded beaches, they will "haul out" on a platform instead of the beach if one is around. While a platform keeps them safe from dogs and beachgoers, it does not keep them safe from harassment by curious kayakers and paddle boarders. We have been hearing reports of people in water craft causing pups to abandon the rafts. Not only are people to stay back from marine mammals on shore (NOAA guideline is 100 yards), but also in the water, as clearly stated by the
Marine Mammal Protection Act
. Altering an animal's behavior is considered a violation of this Federal law.
Please
observe these resting pups from a distance
. We do not want them scared off the platforms and come ashore, where they are much more vulnerable to disturbance or injury. Many of these pups are very thin and don't have calories to spare, burning them unnecessarily. Please stay back - you can save a life!
If you own waterfront property and would like information on building a raft (we can provide plans), please
email us
.
Sep/13/11 08:40 AM
Seal Sitters has responded to two incidents the past few days involving human interference in the Everett area, both by well-meaning but misguided folks.
Never
pour water or place clothing or towels over seal pups. Material placed over a struggling pup can cause severe health consequences from over-heating. It is a
federal offense
to touch, move or feed a marine mammal as written into the Marine Mammal Protection Act of 1972. Keep your distance from a seal pup or seal on the beach and call the stranding network or NOAA Hotline. Violators will be prosecuted or heavily fined by NOAA's Office for Law Enforcement.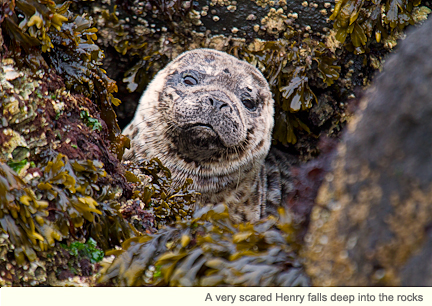 In West Seattle over the past few days, we had two incidents of off leash dogs with owners who flagrantly violated the "no dogs on beach" ordinance - with the knowledge that there was a seal pup on the beach. In the case yesterday, a woman running on the beach refused to control and leash her dog, even after being informed that we had a very small pup on the rocks. As they ran by, seal pup Henry was scared and fell deep into a hole in the rocks, distressed and apparently stuck. As our volunteers scrambled to assess how to intervene for a rescue if necessary, Henry managed to free himself and crawl out onto the beach. Our volunteers remained on the beach to prevent any further incidents. Every year dogs maul or kill seal pups in the Northwest. All persons willfully violating the MMPA will be reported to NOAA Office for Law Enforcement. A violation includes an act by a human that in
any
way alters the behavior of a marine mammal - including causing them to relocate. Seal Sitters tries our best to maintain a reasonable perimeter so that a pup may rest undisturbed in a very urban environment. Please be respectful of seals' need to rest onshore!