Nov/29/12 05:34 AM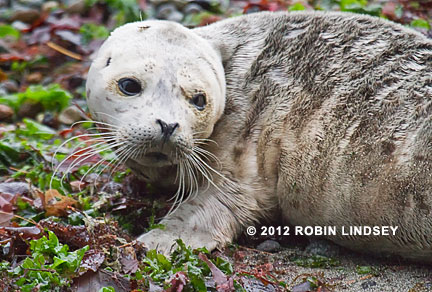 Shortly after hotline operator L.A. received a report early yesterday morning, our responders found a harbor seal pup trying to rest on the beach at Lincoln Park. Very close to the walking path because of a high tide, the pup was alert and skittish to the activity around her. We were afraid she would return to the Sound before we could get a perimeter established. Quickly, however, we were able to allow her an extra few feet of space by taping off part of the walkway, still leaving plenty of room for walkers and bikers to have a thoroughfare.
It is a testament to how much she desperately needed rest that she would eventually settle in for a long snooze on a very rainy day, even with people much too close. Occasionally, Sweet Pea would lift her head to take a look at her admirers, then settle back down on her colorful bed of sea lettuce and kelp.
Sweet Pea was still sleeping on the beach when the Seal Sitters team left Lincoln Park at dark. The approaching darkness seemed to bring out the off leash dog people. Four folks had to be asked to put their dogs on a leash (as did several others throughout the day). One woman, coming down from the Lowman Beach end of the Park, had 3 large dogs off leash on the beach. When a volunteer informed her of the resting seal pup, the owner had difficulty controlling her dogs. Fortunately, Seal Sitters interrupted her early and she got them turned around and headed back the other direction, dogs still off leash and still on the beach - against the law in
all
Seattle Parks. Off leash dogs continue to be a huge problem and real danger for all wildlife. Earlier this year, a seal pup was killed by an off leash dog on a Puget Sound beach and one of the resident geese at Lincoln Park was attacked just recently - thankfully, the goose survived, but residents are outraged.
Volunteers will be checking the beach at Lincoln Park for Sweet Pea at first light this morning. As always, if you see a seal on the beach, call the Seal Sitters hotline @ 206-905-7325 (SEAL). Thanks to our volunteers who spent many hours in the rain today and to scheduler Nancy who coordinated their shifts!