Mar/06/13 06:51 PM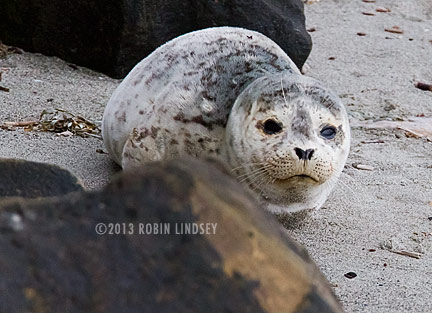 West Seattle continues to be a winter destination resort for weaned seal pups, with a bounty of both pups (and adults) using our friendly shores for a little R&R. Early this morning, we responded to a call about a pup nestled among the rocks against the sea wall. The jittery pup returned to the water as our volunteer arrived.
Finally, she was able to get an id photo of this elusive pup who seems to be coming ashore at night, leaving early morning. We've known a pup was using this hideaway because we have often seen tracks leading back down to the water's edge. Sometimes, we'll get a quick glimpse of the pup just as daylight starts to creep over the horizon and he flops across the sand into the Sound. We wondered if it could be Spencer (whom we have not seen since mid-February), but id photos have shown this is indeed a new pup.
This is one stealthy little seal who is getting some much-needed rest in the quiet of night. Nicknamed Sneaky Pete, we hope the pup continues to find safe haven on our shore during times when the beach is void of people and off-leash dogs. If you come across Sneaky Pete (or any other pup or marine mammal), please call our hotline at 206-905-7325 (SEAL) and we will immediately dispatch a responder.