Nov/02/12 07:01 AM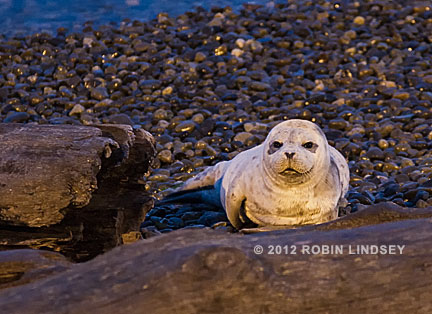 Like in seasons past, our seal pup season in West Seattle really heats up in the late fall as weaned pups seek refuge on shore. We seem to have a number of pups hanging out in Elliott Bay as coho salmon makes a run for the Duwamish River and where there are big fish, there are little fish (and fish scraps) for small harbor seal pups.
Ma Kai continues to
haul out
after dark and snooze as she has every night for the past two weeks now. She is a very chubby and alert pup and our volunteers are elated to protect her and keep her that way. Ma Kai is shown here, illuminated by a streetlight, as she stirs and gets ready to head back to the water from her safe cove.
The dark rings shown around Ma Kai's eyes are from a mucous membrane that protects the surface of the eye while swimming underwater. These rings are a good indication that she is well hydrated. Seals and sea lions don't drink water - they get all the hydration they need from the food they eat. A seal drinking water is an indication that the animal has a serious and often fatal, disease, Leptospirosis, which can be transmitted between mammals (including humans and dogs) by contact with urine.
Both Ma Kai and another pup, Wailea, have chosen another very dangerous location to rest two nights this week. Wailea, another alert and reasonably plump pup, was found in the middle of a dark parking lot accessible from Elliott Bay and could have easily been run over. Ma Kai was there last night. We have stationed volunteers until very late at night, protecting the pups in these two instances. Seal Sitters hopes they abandon this vulnerable location and return to the safety of Ma Kai's cove.
As always, if you see a pup on shore - especially in a dangerous location - call our dedicated hotline @ 206-905-7325 (SEAL). If it is at night and a volunteer does not answer the hotline, please leave a detailed message with time, location and your callback number.
Many thanks to the officers of the SW Police Precinct for their support in helping keep seal pups (and volunteers) safe in vulnerable locations.
Oct/26/12 08:53 AM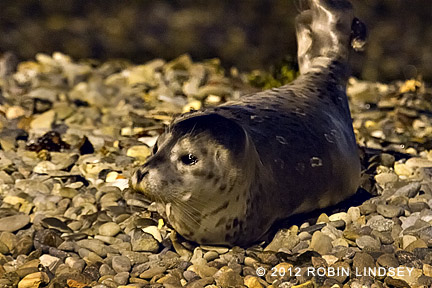 Under the watchful eye of Seal Sitters volunteers, seal pup Ma Kai has come ashore at dark and rested until just before sunrise for the past 7 days in a row. We are reassured that the pup has been very alert, moves well across the beach and is pretty plump for a weaned pup (shown here illuminated by a streetlight). The pup does have some nicks on the belly, but nothing to be concerned about at this point. It is common for seal pups to have minor cuts and abrasions.
Sixth grade student Kai and his mom first alerted Seal Sitters' hotline about this pup last Friday night. Since we already had a pup named Kai, this pup was dubbed Ma Kai, meaning "near the sea" in the Hawaiian language.
It is interesting that tides don't seem to be a factor in Ma Kai's
haulout
patterns, which seem to be dictated more by darkness. Does she feel safer on shore with fewer people and dogs? Weaned pups become much more wary of humans and activity as they get older, much like adult seals who are extremely shy of people.
Our responders check periodically throughout the night and early morning on Ma Kai. This pup is vulnerable in an area known for use by people and, too often, off leash dogs - so, our volunteers have been vigilant. Ma Kai returned to the bitter cold Northwest waters before sunrise this morning.
Oct/21/12 08:09 AM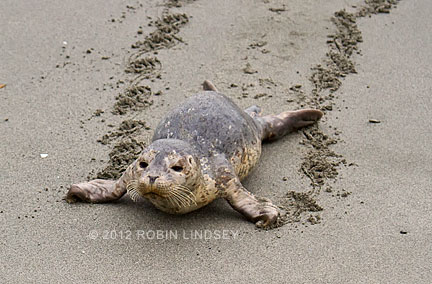 Volunteers have been kept busy this past week, but our responses have hardly been the norm. Instead of pups resting during the day, two pups that we know of have been sleeping on public beaches at night.
For five nights in a row, a late visitor nicknamed Nocturne, used a stretch of sandy beach to snooze in the relative quiet of darkness. The alert pup was a welcome sight for our volunteers - finally, a chubby pup to watch over, after responding to so many terribly thin pups this season. Each morning before sunrise, our responder has checked the beach but the pup has been gone. Our fear, of course, is the many people who insist on allowing their dogs off leash late at night and in the wee hours of the morning. Or a runner zipping down the beach in the darkness could easily step on a sleeping pup.
On Friday night, the hotline received a call from a young boy and his mom who discovered another pup on a public access cove. Our responders, who were observing Nocturne with volunteers, quickly took off to find the next pup and secured the area with stakes, tape and signs while the pup stretched, yawned and rolled over on her back to take an extended nap. The pup, nicknamed Ma Kai, was checked on periodically throughout the night and returned to Elliott Bay about 5:30 am Saturday morning.
Around 7am Saturday, hotline operator Dave answered an early call with yet another report of a pup on a public beach (photo above). Within minutes, our responder was at the location and the pup was cordoned off. This chubby pup stayed on shore for a couple of hours and then returned to the Sound. As is our practice, volunteers waited about 1/2 hour before taking down the perimeter and left the scene. Shortly after, the phone rang that the pup was back at the same location. Volunteers re-established the yellow tape perimeter. This pup went in and out of the water all afternoon and into the night. By the third time, we were wise enough to leave the tape up, knowing the pup would return. Thanks to all the volunteers who put in long hours on a very strange weather day - including a drenching downpour.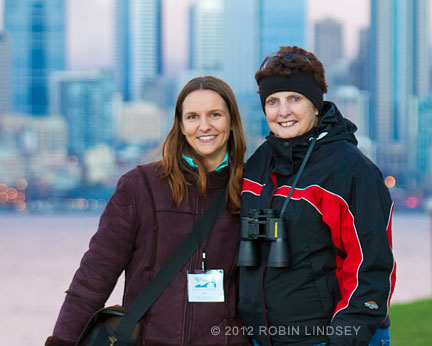 This was unusual behavior for a seal pup. Typically in West Seattle, they
haul out
and rest for long periods of time, up to 8-10 hours. When they return to the water, we usually don't see them again for many, many hours. We compared markings on this pup and have determined that he is indeed Nocturne (shown above coming ashore on one of his many roundtrips yesterday). That might also explain his active behavior yesterday, since we know he had such a long sleep on another beach the night before.
Needless to say, our responders are a tad tired after Nocturne and Ma Kai's on-going night adventures. Volunteers Nina and Theresa are shown watching over Nocturne at dusk last evening. Ma Kai also returned to her cove last night for another long rest, but was gone at 5am this morning.
10/21/12 12:48pm PUPDATE

Nocturne was not on the beach at 5:15 this morning. However, at 10 am we noticed fresh tracks in the sand, but no pup in sight. We fully expect him to return this afternoon as the tide recedes - the little trickster may well take a sun break on the sand. Or, he could pick another spot just to keep us on our toes. Please call the hotline @ 206-905-7325 (SEAL) if you see a pup on shore.