Feb/02/12 05:40 PM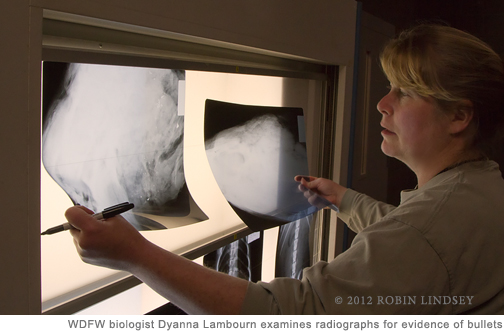 Another sea lion has been discovered shot in South Puget Sound's Nisqually Delta this week. This brings the total number of
confirmed
pinniped deaths by bullet wounds in Washington State to
eight
:
in Puget Sound, there have been 4 California sea lions and 1 adult harbor seal; in Hood Canal, 1 threatened Steller sea lion; on the outer coast of Washington, 1 California sea lion; most recent, in the Nisqually Refuge, 1 California sea lion.
Unsubstantiated reports this week by some media of a "shot baby sea lion" were untrue. Instead, a dead harbor seal pup was reported at Picnic Point in Edmonds. The reporting party said the animal was shot and gave an incorrect identity of species. There was no evidence of foul play when photos of the pup were reviewed by marine mammal stranding experts. Most likely, the person who found the animal mistakenly thought the pup's tiny ear hole was a bullet entry wound. This is a common misconception by the public since harbor seals have no external ear flap.
Determining the cause of death for a marine mammal can challenge even the most experienced of biologists. Small entry wounds are extremely difficult to see on a massive, often decomposed animal. According to WDFW marine mammal biologist Dyanna Lambourn, more often than not, trauma from a bullet (such as hemorrhaging and tissue damage) is usually discovered once the animal is opened up for necropsy. Once the damage is discovered, the investigators are able to track back through the body to find the entry wound. Often, there is suspicion of a bullet wound, but the bullet itself is not found on initial exam. Radiographs reveal clear evidence of fragmented bone and often the embedded bullet itself. Dyanna is shown here (photo above) reviewing radiographs of recent sea lion shootings. These new radiographs proved that the
Lincoln Park sea lion
had been shot in the head as well as left lung.
It is imperative that the public continue to call with reports of all dead seals and sea lions: call NOAA's hotline at 1-800-853-1964 or Seal Sitters' Hotline at 206-905-7325 (SEAL) for all West Seattle reports. Scavenger damage and natural decomposition can cause small external wounds and holes in the carcasses of dead marine mammals. Please do not assume the animal you are reporting has been shot. When at all possible, trained professionals will respond if the condition of the animal is fresh and the best available data can be collected. Photos from the public are helpful in determining species and general condition in case the animal cannot be located or if response is not possible. When reporting, please provide hotline operators with as precise a location of the animal as possible, including notable landmarks. Necropsies are performed to keep tabs on the health of the populations and monitor signs for outbreak of disease or other factors contributing to death - and, of course, provide evidence if indeed there is foul play.
There is an on-going investigation by NOAA's Office for Law Enforcement regarding the shooting deaths of these animals. Please call 1-800-853-1964 to report any suspicious activity regarding marine mammal harassment or if you have any information regarding these shootings. Sea Shepherd Society has offered a
$10,000 reward for information
leading to arrest and conviction in this case.