Aug/21/17 07:38 PM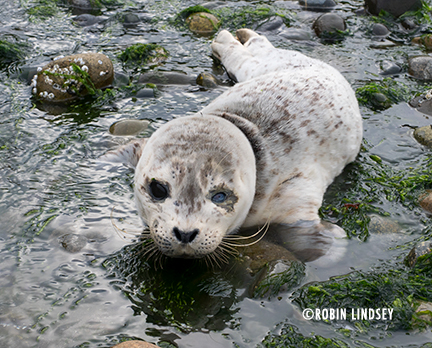 Following up on a hotline report of a seal at Weather Watch Park, Seal Sitters First Responders David and Eilene headed down to the small beach late Friday afternoon. Earlier in the day, they had watched over a small pup resting below the sea wall near Alki Beach who was forced back into Puget Sound by an encroaching tide. This newest response was to the same small pup.
Taping off the entrance to the beach, a call was placed to Volunteer Scheduler Karin and a "seal on the beach now" email was sent out. Karin lined up volunteers Judy, Jimi and Dori (the latter brand new trainees). Responders Lynn, Robin and Dana all dropped by to help.
The pup was tiny and terribly thin - not a good sign - and had some kind of issue with the left eye. Photos of a wide yawn revealed a full set of teeth which would indicate the pup was close to weaning or newly weaned. At 9:40pm Friday night, the pup, nicknamed
Randy
, was still resting on the beach and the cove remained closed throughout the night.
At 6:30am, Dana checked the beach and Randy was in the same spot. She observed seizures and dialed Robin who drove down to the Park. A call was promptly placed to NOAA since many of the area's consulting marine mammal vets were dealing with the live
stranded juvenile gray whale
on Washington's outer coast.
PAWS
Wildlife Center was then contacted for possible euthanasia, though rehab was very much a possibility if the pup seemed viable.
Robin and David captured the pup, who was transported to the facility in Lynnwood. Sadly, shortly after intake and exam, he was euthanized for a number of health issues. Measuring only 80cm in length and weighing just 7.405kg (a little over 16lbs), Randy also had a serious eye injury: the cornea had ruptured, causing a nasty infection. It was deemed by PAWS veterinary staff that euthanasia was the most humane option. While a blind seal can survive in the wild since they are able to use their whiskers to locate prey, there were just too many hurdles for this little pup to overcome.
WDFW Marine Mammal Biologist Dyanna Lambourn will perform a necropsy on Randy and we will update with findings here.
Thanks to everyone who kept Randy safe from harm and suffering.